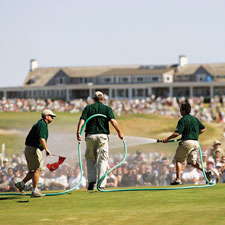 During the 2004 U.S. Open at Shinnecock Hills Golf Club, greenkeepers tried to slow down the greens by putting on water during the final round on Sunday.
The Biggest Show in Golf
(continued from page 2)
"It was a really difficult situation and one I will never forget," says Davis. "You had good shots that not only were not being rewarded, they were penalized. When we have something like that happen, and it crosses the line, that is not only a tough test but an unfair test and that's definitely not what we want."
When Mark Calcavecchia finished his round that day, he was completely drained and totally frustrated. The field averaged 78.8 shots on Sunday and there were 29 scores in the 80s. Only hit about a third of the greens were hit in regulation.
"Well, at 9:40 the greens were lost," said Calcavecchia, who shot a well-earned 75. "They were dead from the start. It's the USGA's fault. They're trying to throw a little water on them to make it look like they're doing something, but it's not doing any good whatsoever. It's not the first time they've done this, and it won't be the last. And on that note, I need a beer."
Since then the USGA hasn't repeated the mistake, largely thanks to Mike Davis' vigilance. Davis' first setup was the 2006 U.S. Open at Winged Foot, where he introduced a concept that he had been thinking about for some time. It had annoyed him that shots just off the fairway in heavy rough could be penalized greater than shots that were way off line but ended up with decent lies where spectators had tromped the grass down. At Winged Foot he employed a graduated rough that got higher the farther away from the edge of the fairway. And he pushed the spectator ropes farther away from play to make sure that the duck hook or snap slice ended up in the appropriate amount of deep spinach. It was a concept applauded by players and used ever since.
This is not to say that all Opens were unfairly set up before Davis' watch. Floyd had never played at Shinnecock Hills before the Open in 1986. Shinnecock had been the site of the second Open in 1896, but its rather remote site and seasonal nature of the small membership had long taken it out of consideration as the Open grew bigger and grew increasingly more important as a revenue source for the USGA. But a deep desire to bring the Open back to its roots would give players their chance to see one of the world's best courses for the very first time.
"In 1986, I'll never forget, I drove out to Shinnecock on Sunday afternoon," says Floyd. "I had never been there before. I played a practice round on Monday morning, had my two boys with me. When I got done I told my [late] wife Maria this golf course is so great that not even the USGA could screw it up. There was absolutely no trickery to it; they just narrowed it up, made it a little firmer. It was perfect."
For Floyd, perfect didn't just mean that the fairways were the right height, that the rough was tough but playable, that the greens were the correct firmness and the balls were rolling at the correct the speed. It meant that his head was clear.
"I always thought I had a chance to win coming in, then I would get there and be livid at the way the course was set up," says Floyd. "My bad attitude cost me chances to win an Open. I should have been able to win one before 1986. But the Open was always getting into my head. That's what it does to players, for better or worse."
Glen Nager, the president of the USGA, thinks that the severity of the Open is what sets it apart from all the other majors and what gives it its mojo. "For the people watching at home on television, the people attending the Open­—the consumers of our game—we want to give them a great venue that tests the maximum of physical and mental endurance," says Nager. "We feel that a player needs to handle the course physically, and needs to mentally cope with adversity and pressure. That's what we want our courses to provide and I think fans of the game have come to expect that."
Davis says that it is a fact that fans of the game want the Open to be a horror house ride for the players. And while he was reviled at Shinnecock in 2004, it was the 2011 Open at Congressional Country Club won by Rory McIlroy that evoked the greatest emotional response by fans.
You must be logged in to post a comment.
Log In If You're Already Registered At Cigar Aficionado Online