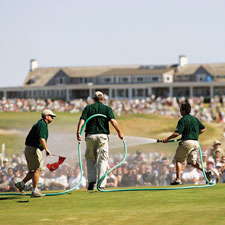 During the 2004 U.S. Open at Shinnecock Hills Golf Club, greenkeepers tried to slow down the greens by putting on water during the final round on Sunday.
The Biggest Show in Golf
(continued from page 1)
The economic facts aren't lost on Nager. "The U.S. Open is like a show, some say the biggest show in golf," says Nager. "It is an entertainment product, no question. But we are holding our national championship and trying to find the best golfer. We don't really ask the television people about the venues we go to other than to talk with them about their ability to broadcast from a place. TV wants to broadcast a tournament that provides a strong test of golf and the sort of drama that goes with it. We think we provide them, and all the fans of golf, with that."
Bringing the Open back to Merion—a small, classic course of less than 7,000 yards—in the modern era of the game was difficult to do, but Davis was determined to do it, just as he is determined to take the Open to new sites in the future, including two public courses, 2015 at Chambers Bay in University Place, Washington, and 2017 at Erin Hills in rural Wisconsin, north of Milwaukee (see sidebar, pg. 81). And those two courses were given the nod after the resounding success of the Open at New York State's Bethpage Black course on Long Island in 2002.
You can bet that Merion will be set up on the edge, that it will reach the outer limits that the USGA so much wants to determine its national champion. "We saw at the U.S. Amateur at Merion [in 2005] that during the stroke play qualifying it could stand up to these modern players," says Davis. "Merion, being so small, is a difficult place to conduct the Open outside ropes. But inside the ropes it more than held its own. . . . Whether you like it or not, people have come to think of the Open as a really tough test of golf, and we are sure that Merion will prove to be that."
It might be best to go back to the great amateur Bobby Jones, who won three U.S. Opens (the last at Merion in 1930), to find the definition of the game's most arduous tournament.
"Nobody ever wins a U.S. Open," said Jones. "Everybody else just loses it."
Jeff Williams is a contributing editor for Cigar Aficionado.
You must be logged in to post a comment.
Log In If You're Already Registered At Cigar Aficionado Online