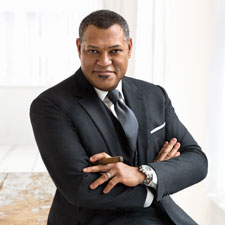 Fishburne Reloaded
Laurence Fishburne has been on camera since he was a boy. Now the man from the Matrix is playing Superman's boss and taking on Hannibal Lecter
(continued from page 6)
While he was pleased to play the first black justice before the first black president, Fishburne apparently didn't get the chance to perform for the Supreme Court's second black justice. To Fishburne's knowledge, Justice Clarence Thomas, who replaced Marshall on the Supreme Court, never came to see Thurgood.
"I went to the Supreme Court and watched him work, but he never returned the favor," Fishburne says with a laugh.
If performing for the Obamas was exciting, Fishburne says, he was even more satisfied with the response from Marshall's family. "The most gratifying thing has been how much his family enjoyed it," he says. "His wife, his sons and their children were all in attendance many times. I heard from people who clerked for Justice Marshall. His widow came and sat front row center with her girlfriends, all wearing their best clothes, on her birthday. It was extraordinary.
"I'm not done with it, not by a long shot. I'd love to go back to D.C. and do an extended run. Look at Hal Holbrook; he's still out there doing Mark Twain. I'll be doing Thurgood as long as I'm able to."
With more than four decades of experience, Fishburne says the satisfaction he gets from acting "has only gotten better. The satisfaction from creativity is very rewarding."
There's also the fulfillment of becoming a father again in his 40s. Now 51, he and Torres have a daughter, Delilah, who will be 6 in June. (Fishburne has two grown children from his first marriage.)
"Being a mature father, as it were, is much better," he says. "I feel like I have the resources to provide for my children and family at this point. I'm not scared or worried about that. I'm just more confident; I've been a dad for a long time. Every kid is different; it's about recognizing who they are. I'm a lot more patient with myself, so I can be more patient with her."
Meanwhile, Fishburne will wait to see how far "Hannibal" can go, to see if there's further life to be had as Perry White, to continue to embody Thurgood Marshall on the theatrical stage—in other words, to keep working as an actor. That, Fishburne says, is always the goal.
"I don't think of myself as a celebrity or a movie star—I think of myself as an artist," Fishburne says, studying his cigar, just before he's ready to head out into a late-winter New York afternoon. "My artistic discipline is my acting. That may make me sound like I take myself too seriously, but I don't, as you can see from my fanciful clown outfit," he says, indicating his baggy suit.
"People make the mistake of thinking that what I do is who I am," he says. "Hopefully that's because I do what I do successfully."
You must be logged in to post a comment.
Log In If You're Already Registered At Cigar Aficionado Online