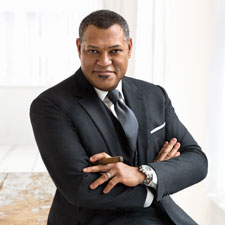 Fishburne Reloaded
Laurence Fishburne has been on camera since he was a boy. Now the man from the Matrix is playing Superman's boss and taking on Hannibal Lecter
(continued from page 5)
"He was the anchor of that film. What's interesting is that, when we did it, he was, like, 28. He was playing Cuba's father—and Cuba was 22. I mean, I was 22 when I made that and the rest of the cast was younger than me. And he was very generous to me and to that young cast."
Says Fishburne, "The message of Boyz was powerful and, for whatever reason, that performance affected people. That was important to my career, both artistically and commercially."
That film led Fishburne to a run of leading roles, including becoming the first African-American actor to play the title role of Othello in a feature film of the Shakespearean tragedy. He ended the decade by costarring in what became one of the most successful, and influential films, of the time: The Matrix, followed by its two sequels, The Matrix Reloaded and The Matrix Revolutions, which combined for more than $1.6 billion worldwide at the box office.
While he was making the first of that trilogy, Fishburne had no sense of how deeply The Matrix would embed itself into popular culture.
"I knew it would be great," he says. "But I didn't know if anybody would watch it. I knew we were making something amazing. But how people would respond to it was something else."
Observes Singleton, "He was The Man in that movie—the baddest dude around. Here was this multiethnic sci-fi world that became this huge pop-culture phenomenon. And Fish was a huge part of that."
Snyder adds, "He's like the ultimate Yoda in those movies—that take on the teacher/guru/father figure is so amazing. But he is a living, breathing Yoda. He's kind and cool and wants to be in good work. When it's time to work, he gets to work. But he's also fun to be around."
Fishburne has had no shortage of roles since the turn of the century, working steadily on the Matrix films, "CSI" and a one-man show, Thurgood. The play is based on the life of the late U.S. Supreme Court Justice Thurgood Marshall, the first black justice on the Court, as well as the attorney who argued (and won) Brown vs. the Board of Education, which ended state-supported school segregation. Thurgood earned him his second Tony Award; he played it on Broadway for four months, as well as taking it on the road. He also received an Emmy nomination for a filmed version that aired on HBO.
He remembers specifically the 2010 performance in Washington, D.C., when President Barack Obama and First Lady Michelle Obama were in attendance: "That was the thrill of a lifetime—to perform for President Obama and the First Lady. It's command-performance time. I have no words to describe how proud and humble I was," Fishburne says.
"Apparently, many White House staffers had come to see the show, although I wasn't aware of it until the president came. The first thing he told me backstage was, 'You're the talk of the East Wing. We came because so many people on our staff have seen it and insisted that we do.' "
You must be logged in to post a comment.
Log In If You're Already Registered At Cigar Aficionado Online