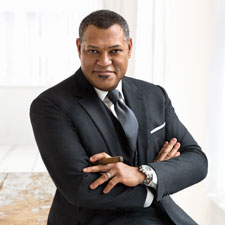 Fishburne Reloaded
Laurence Fishburne has been on camera since he was a boy. Now the man from the Matrix is playing Superman's boss and taking on Hannibal Lecter
(continued from page 4)
Though the film was a hit—and is ranked in the Top 100 films of all time by the American Film Institute—it received mixed reviews when it opened. While it was a box-office success, it was not a blockbuster in the way The Godfather films had been.
"That movie is an American masterpiece—but that's not how it was received when it came out in 1979," Fishburne says. "I remember being disappointed that people didn't get it at the time. I was aware that it wasn't a hit, that it wasn't doing the kind of business that Godfather had done. It was just a few years after the end of the Vietnam War and that was too close. It was a very divisive war.
"Out of the whole experience, what I learned is that sometimes you get disappointed in life. You've got to figure it out and get over it, then move on. It's not the disappointment that matters; it's how you deal with it. As it is, I think of that movie as a kind of home movie. That movie is like my high-school yearbook."
Singleton puts it another way: "He told me one time that he went into the jungle a boy, but he came out a man."
Still a teenager when Apocalypse Now was released, Fishburne focused on acting, working through his 20s in TV and films. He made three more films with Coppola in the 1980s: The Cotton Club, Rumble Fish and Gardens of Stone.
"Francis was my godfather, for certain—like an uncle or a father figure," Fishburne says. "That experience—me working with him on that movie and three more—he's the reason I turned out to be the kind of actor I am."
Fishburne really hit his stride around the time he turned 30. Roles in Spike Lee's School Daze (1988) and Abel Ferrara's King of New York (1990) led to a crucial role in John Singleton's Oscar-nominated 1991 debut, Boyz n the Hood. Playing the stern but patient father of a teen, portrayed by Cuba Gooding Jr., in a troubled South Central Los Angeles neighborhood, Fishburne tapped into his inner authority figure. It changed his career.
"I had expectations at 18 and 19 that were completely unrealistic," Fishburne recalls. "So by the time I was 30, I had left those behind. That period—my 20s—helped me gain a considerable amount of humility. They say it takes 10 years to make an actor and, by the time I was 20, I'd been acting for 10 years. But there weren't that many roles for people of color that were front and center. So, in my 20s, like most young people, I was aggressively trying to create myself and define myself.
"By the time I was 30, I'd been an actor for 20 years, which sort of gave me an edge. I had a perspective that was very helpful to me. It wasn't until 30 that I became a name. I got a Tony Award when I was 30 (for August Wilson's Two Trains Running) and Oscar nomination at 32 (for playing Ike Turner in What's Love Got to Do With It). And I won two Emmy Awards around the same time. Things changed. There were more roles for people of color, roles that were more than cardboard cutouts in the background, relegated to fourth or fifth banana in the story."
Singleton remembers meeting Fishburne when the actor was playing Cowboy Curtis on "Pee-wee's Playhouse," and Singleton was a college student working as a security guard/production assistant.
"I was in awe of him," Singleton recalled. "I told him my story: how I was going to film school and was going to write a movie. He said, 'How old are you?' I told him I was 19, and he smiled and said, 'Go ahead, brother.' Three years later I sent him the script for Boyz. I wrote the role for him. And he did the film.
You must be logged in to post a comment.
Log In If You're Already Registered At Cigar Aficionado Online