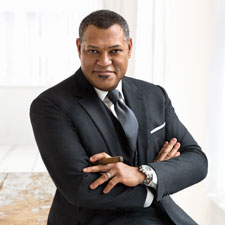 Fishburne Reloaded
Laurence Fishburne has been on camera since he was a boy. Now the man from the Matrix is playing Superman's boss and taking on Hannibal Lecter
(continued from page 3)
"Billy Petersen [who played Gil Grissom for almost 200 episodes of "CSI"] played Will Graham in Manhunter—and without that performance, I don't think there would have been 'CSI' as we knew it," says Fishburne. "That character was the prototype for what would become Grissom." And, of course, Fishburne, who is playing Will Graham's mentor in "Hannibal," replaced Petersen in "CSI" as Dr. Raymond Langston, an experience Fishburne says convinced him that a role in a quality TV series may be the best gig around.
"First of all, 'CSI' was incredibly convenient—five minutes from my house," he says. "And I got there nine seasons in, after all the heavy lifting had been done. They'd worked hard and built this well-oiled machine. All I had to do was enter and sit where the foundation had been laid. The best way for me to service the show was to fill the space. Because Billy was leaving a big hole."
So Fishburne is happy to return to the demands of a weekly hour-long crime drama. After three seasons on "CSI," Fishburne sees TV as the kind of job actors like best: one that requires them to be at the top of their craft on a daily basis. "TV gives me the opportunity to work every day," Fishburne says with barely contained joy. "There's an immediacy with television. You don't have to wait for it. I shot the Superman movie in, what, 2011? And it's not out yet.
"I just enjoy acting. I don't make a distinction between TV and film and theater. I enjoy them all. Really, the most interesting things being made, aside from documentaries, is the TV that's being done on cable. It's more interesting, really, than mainstream movies. Everything is remakes and sequels and tentpoles. And now reboots. And zombie movies."
Notes Fuller, "He's such a smart actor. He's that guy who's always thinking about where his character is at any given moment in that world. He's a storyteller as a human being; so he's an intuitive actor who is aware of the story being told."
Adds Singleton, "Fish is a self-made actor who didn't have any formal training. But he's always challenged himself to go further. Anything he does, he just gives it a voice of authority. People take something seriously if they know he's involved. When he joined the cast of 'CSI,' people's ears perked up."
It's been more than 40 years since the 10-year-old Fishburne started auditioning for—and winning—movie and TV roles. It has been a rollercoaster career, one that began with roles on a TV soap opera ("One Life to Live") and a starring role in a 1975 film, Cornbread, Earl and Me, opposite UCLA basketball star Jamaal (then Keith) Wilkes. Early success can lead to early disappointment, something that Fishburne experienced in spectacular fashion when he was cast in one of the biggest films of the 1970s, Apocalypse Now. The film was Francis Ford Coppola's first movie after The Godfather, Part II, and adapted Joseph Conrad's novella Heart of Darkness to the Vietnam War. Coppola famously went far over schedule and over budget, shooting in the Philippines for two years, mortgaging much of his personal fortune to finish the film.
Fishburne had auditioned to play one of the crew of the boat that took Capt. Willard (Martin Sheen) up the river in search of the renegade Col. Kurtz, played by Marlon Brando. The character was meant to be 17; Fishburne told Coppola he was 16 when he auditioned. In fact, he was 14.
"I don't think anyone was fooled," he recalls with a chuckle. But he still got the part.
Accompanied by his mother, Fishburne spent the next two years filming in the Philippines with Coppola. Actors were fired and hired, weather destroyed sets, money ran out—but Fishburne just kept working, happily, watched over by his mother. "She had some stage mother to her," Fishburne says with a laugh. "And I couldn't have gone without her. I don't know many mothers who would do that. I'm grateful she did, that she recognized the opportunity for what it was. We made the best of an unpredictable situation. And we had fun."
You must be logged in to post a comment.
Log In If You're Already Registered At Cigar Aficionado Online