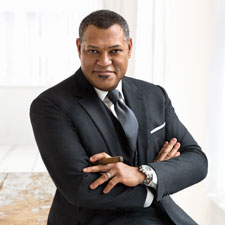 Fishburne Reloaded
Laurence Fishburne has been on camera since he was a boy. Now the man from the Matrix is playing Superman's boss and taking on Hannibal Lecter
(continued from page 2)
The new TV series starts before Lecter has been identified as a serial killer. In the show a young Will Graham (played by Hugh Dancy) is hired by the FBI due to his talents as a criminal profiler. But his new boss, Jack Crawford—played by Fishburne—has his doubts, worrying that Graham will need therapy to maintain his equilibrium given the intense nature of the work. So he hires a psychiatrist to help him—Dr. Hannibal Lecter, played by Danish star Mads Mikkelsen.
"My character heads the Behavioral Science section of the FBI who recruits Graham, because he has this incredible empathy," Fishburne says. "He's been recruited to catch serial killers because he can enter the emotional state of the killer. He can enter their minds; that's not a healthy thing to do. That makes him fragile—so my character enlists Lecter to counsel him, to be his therapist.
"It's actually very clever. You watch these three guys playing mind games. There are some horrifying images along the way, not all of them produced by Lecter. It's quite smart—very interesting. It's not a procedural —it's very much character-driven."
Bryan Fuller, executive producer of "Hannibal," says, "We were talking about who could play Jack Crawford. When Laurence's name came up, I wondered if we even dared to dream that we could get him. He's an iconic actor; you look at his résumé and there's one classic, distinctive film after another. And yet he'll do something quirky like play Cowboy Curtis on 'Pee-wee's Playhouse.' After the mere mention of his name, we couldn't think of anyone else being that character."
The Hannibal Lecter novels have all been adapted as films; the first one, Red Dragon, was made by Michael Mann as Manhunter in 1986, then as Red Dragon by Brett Ratner in 2002. Hannibal, the sequel to The Silence of the Lambs, was made in 2001 and Hannibal Rising followed in 2007. The most successful of all the film adaptations, The Silence of the Lambs swept the Academy Awards in 1992, winning Oscars for best picture, director, adapted screenplay, actor and actress.
So Fishburne is taking TV viewers into a familiar world, filled with characters that previously have been played by other actors. Will Graham was played by William Petersen in Manhunter and Edward Norton in Red Dragon, prior to Dancy's characterization on the TV series. Jack Crawford has been played by Dennis Farina, Scott Glenn and Harvey Keitel in various films. The connection to Glenn, with whom Fishburne worked as a teenager in Apocalypse Now, was particularly meaningful.
"I was talking to him about what we wanted to do, beyond what you normally see with this role in this kind of crime story," Fuller says. "We started talking about Scott Glenn. Laurence is a great raconteur telling stories about his career. He started telling me about working with Scott and how he looked on him as one of his 'uncles' on Apocalypse Now. His love of Scott and his affection for him was one of the things that impressed me, along with his passion for playing a role one of his 'uncles' had played. He wanted to make it his own and yet still honor what Scott—and Harvey and Dennis—had done."
The continuing public appetite for Harris' characters—especially Hannibal Lecter—is a cultural phenomenon that never seems to diminish. What is it about Hannibal Lecter in particular, and serial killers in general, that seems to appeal to the darker instincts of an audience?
"Everybody's dirty little secret is that we all, at some moment, fantasize about killing someone else," Fishburne says. "So Hannibal is the living embodiment of that fantasy. But it's meant as purely fantasy.
"Look at a show like 'Dexter.' I'm a huge 'Dexter' fan. Obviously, his being a serial killer is a metaphor for being different. But I wonder what it says that we've got this serial killer as our hero."
Fishburne can even tease out a connection between the world of Hannibal Lecter and that of "CSI," one of television's most popular long-running shows.
You must be logged in to post a comment.
Log In If You're Already Registered At Cigar Aficionado Online