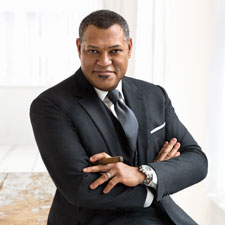 Fishburne Reloaded
Laurence Fishburne has been on camera since he was a boy. Now the man from the Matrix is playing Superman's boss and taking on Hannibal Lecter
(continued from page 1)
Fishburne's Perry White is "full of dimension, and not just barking at Lois Lane," Snyder says. "He's definitely a leader, he's physical. It's a cool evolution." Notes Fishburne's friend, filmmaker John Singleton, "Fish is a real geek. I think that, privately, he really loves playing Perry White."
As a collector, Fishburne is a connoisseur of comic-book movies. Even as he's hopeful as an actor that Man of Steel will spawn sequels, he's eager—as a fan—for a movie about the Justice League of America, the superhero team that includes Superman, Batman, Wonder Woman and a host of other heroes. Imagine the Justice League as the DC Comics answer to Marvel's The Avengers, the movie about Iron Man, Thor, The Hulk and other heroes that ranks as one of the top grossers of all time.
"They'd do well to make a Justice League movie," says Fishburne. "The Avengers was really good. I liked it better than all the movies that were leading up to it. The first Iron Man I really liked; Thor I wish I liked more."
Though he obviously fits the demographic, Fishburne has never made a trek to Comic-Con, the annual gathering in San Diego that's like Mecca for fans of fantasy, sci-fi, action, horror and comic books. Even before he was cast as Perry White, Fishburne was a legend among the sci-fi cognoscenti, having played the essential character Morpheus in The Matrix trilogy. He wouldn't get 10 feet on the convention-hall floor without being mobbed.
"I can't go and just walk around, I'm afraid," he says, sounding a bit wistful. "I have yet to go to Comic-Con, though I'm sure that, in the future, there will be a moment in time when I would go as the guy who played Morpheus."
Though he's been working in Toronto, Fishburne is in Manhattan to check in on his ailing father. He keeps a place in New York and is a member of the Grand Havana Room, where cigars are always welcome.
"I recently put down cigarettes," Fishburne says, "so I'm smoking more cigars. My go-to cigar is probably any kind of maduro. I like a dark, rich, sweet, mature cigar. I can't rattle off the names of brands I like. I do like that in Toronto I can get Cubans without having to go through 'channels.'
"It's very easy to smoke a cigar every day. When I said that to my doctor, he frowned. But my wife and my daughter don't give me a hard time. I take the cigars outside."
The Brooklyn native has lived in Los Angeles for a number of years, but now spends most of his time in Toronto, where he's been living with his wife, actress Gina Torres, and their young daughter since he finished his run on "CSI: Crime Scene Investigation" in 2011.  The same year, Torres started production in Toronto on her USA Network series, "Suits," which recently finished airing its third season.
As Torres finished production of the latest season of her show, Fishburne began shooting his new one: "Hannibal," a new crime thriller for NBC, which debuted April 4. The series is a prequel to the Hannibal Lecter story, which began with Thomas Harris's 1981 novel Red Dragon. In that book Lecter, an imprisoned psychiatrist known as "Hannibal the Cannibal" for killing and eating several victims, played a large role in support of an FBI criminal profiler named Will Graham, who had come out of retirement to help find a serial killer known as the Tooth Fairy. One of the reasons for Graham's retirement? Just before he captured Lecter, he was nearly killed by the cannibal psychiatrist.
You must be logged in to post a comment.
Log In If You're Already Registered At Cigar Aficionado Online