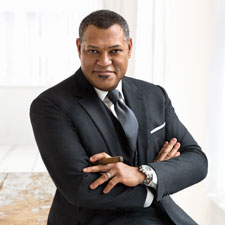 Fishburne Reloaded
Laurence Fishburne has been on camera since he was a boy. Now the man from the Matrix is playing Superman's boss and taking on Hannibal Lecter
Laurence Fishburne kicks back in a plush leather chair in Manhattan's Grand Havana Room, overlooking a northward view of the city encompassing Central Park and the Upper East Side. He lights a Cuban Quai d'Orsay ("A nice little Churchill," he says with satisfaction) and surveys his surroundings like visiting royalty, though it's really just one stop in a busy day. He's wearing an unstructured suit from Moshood ("Stevie Wonder wears their clothes, too," Fishburne notes), an Afrocentric boutique in Brooklyn's Fort Greene neighborhood. Loose-fitting, rough-woven and comfortable-looking, it's an eye-catching ivory with pinstripes in crimson and black crisscrossing to make a subtle windowpane plaid.
At the moment, Fishburne is that happiest of all thespians: a working actor. And not just working, but working every day, thanks to the rigors of a new TV series, "Hannibal," which joined NBC's primetime lineup in April.
Oh, and he's got a movie coming out in June, a little something you may have heard of called Man of Steel. He's playing Perry White, editor of the Daily Planet, where Clark Kent (a.k.a. Superman) works as a reporter. Fishburne is more than pleased to be part of what he and Warner Bros. hopes will be the first of a new series of Superman movies, kicked off by this summer's relaunch. He's got the fervor of a true fan.
"I'm a comic collector," Fishburne says. "I've got over 10,000 comics. I was mostly a Marvel guy growing up. But after Frank Miller's Dark Knight books, you can't ignore the Bat. And you can't ignore Superman either."
Man of Steel stars British newcomer Henry Cavill as Superman, with an all-star cast that also includes Russell Crowe, Kevin Costner, Michael Shannon, Diane Lane and Amy Adams. "It's an incredibly gifted cast," Fishburne says. He also has high praise for the film's director, Zack Snyder, the man behind the blockbuster hit 300 and Watchmen.
"Did you see his film Sucker Punch?" Fishburne says. "It was so awesome. A lot of people didn't get it, but I loved that film."
For his part, Snyder was excited to meet Fishburne, remembering the 1979 Christmas treat his father gave him: taking him to see Apocalypse Now on Christmas morning.
"He's amazing to work with," Snyder says. "I can't say enough awesome things about him. When you meet an actor that you admire, there's always that level of tension, like, will he be what I thought or will it be an illusion created by a role? But the meeting was better than I hoped. He's incredibly collaborative and smart. He's the professional's professional on the set—but he also has fun with it."
The Superman story has been transplanted from comic books to movie and television screens practically since the first Superman comic appeared in 1938. George Reeves wore the cape in the 1950s TV series, then Christopher Reeve embodied the transplant from the planet Krypton in the big-budget films of the 1970s and 1980s. But none of the subsequent Superman efforts, especially 2006's Superman Returns, have caught on with the type of impact delivered by films built around Batman and Spider-Man.
Man of Steel, Fishburne notes, offers a script and story by Christopher Nolan and David Goyer, who combined for the Batman trilogy that concluded last year with The Dark Knight Rises. Fishburne expects their effort to resonate with fans. "It's their treatment of this material. It will be quite different from that last one. It's a combination of the Superman origin story and the plot of the Richard Donner Superman [from 1978]."
Snyder cast Fishburne because "he has that cool guru quality. For Perry White I wanted, not necessarily a father figure, but someone who, when he told you something, that was it. And that's what Laurence is all about."
You must be logged in to post a comment.
Log In If You're Already Registered At Cigar Aficionado Online