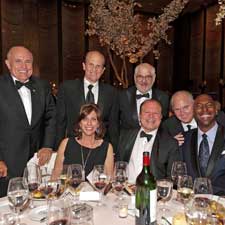 Joining Marvin R. Shanken at the head table were wife Hazel and, from left to right, former New York City mayor Rudy Giuliani, Michael Milken, Chuck Wagner, Rush Limbaugh and John Salley.
Night to Remember Charity Cigar Dinner Raises More Than a Million Dollars
(continued from page 2)
Clark Mandigo of Mandigo Investments will watch the Yankees and Red Sox battle it out in Yankee Stadium this June, but he will do it in style. He and 22 guests are now set to inhabit Suite No. 32 in Yankee stadium when the Yanks play Boston this June. Donated by Sidney Frank Importing Co., the lot went for $20,000.
Davidoff of Geneva offered 200 of some of its finest, limited-edition cigars, including 50-count boxes of Royal Robustos and Royal Salomones, along with an Urushi Falcon Humidor—one of only five in the world. Coulter walked away with this lot for a final bid of $28,000.
When he's not on the radio airwaves, Rush Limbaugh will be teeing off at the TPC Sawgrass golf course and then jet off via private plane to play another round with U.S. Open winner Tony Jacklin at the Concession course in Bradenton, Florida. Perhaps on the plane, Limbaugh will open that bottle of Glenmorangie Pride 1981 that also came with the package. Courtesy of Glenmorangie, Limbaugh took the lot for $50,000.
Alec Bradley Cigar Co. owner Alan Rubin is now part of the club. For $20,000 he won a year membership at the exclusive Grand Havana Room private cigar club, courtesy of the club's president Stan Shuster. A personal cigar locker and a box of Fuente Fuente OpusX cigars will be waiting for him.
The lion's share of OpusX cigars, however, went to Dr. Jude Barbera and Thomas Parissidi. A winning bid of $30,000 got them a treasure trove of over 500 Fuente cigars, including rare shapes and sizes of the coveted Fuente Fuente OpusX cigars, Casa Fuentes (which are only available at the Casa Fuente shop in Las Vegas) and a bold, branded Arturo Fuente golf bag.
George Dickel Tennessee Whisky will be unlocking the barrel room and letting Marvin Shanken select his own personal barrel. He bid $50,000 for this lot, courtesy of the Diageo Group. After Shanken selects the barrel and has an unforgettable night in Nashville, his whiskey will be apportioned into 240 personalized bottles.
The auction concluded with a final lot that pairs a former Wine Spectator Wine of the Year with a former Cigar Aficionado Cigar of the Year. Donated jointly by Padrón Cigars and Caymus Vineyards, this package includes a dinner for 10 with both winemaker Chuck Wagner and cigarmaker Jorge Padrón. The dinner is set to take place in New York City's Grand Havana Room and when attorney Doug Wood sits down with the both of them, he'll be smoking Padróns that range from the Serie 1926 40th Anniversary (the 2004 Cigar of the Year) to the Family Reserve No. 45 Maduro (the 2009 Cigar of the Year). Wood won the auction with a $40,000 bid. And with the fine smoking will come the fine sipping-specifically a Caymus Cabernet Sauvignon Napa Valley Special Selection from 1990 (Spectator's 1994 Wine of the Year). Two other Caymus Cabs that rated 95 points or higher will round out the dinner, as well as other fine Caymus wines. Each guest will leave dinner with 50 cigars custom-made for the event and a magnum of Caymus Special Selection Cabernet.
In addition to the celebrities and industry heavyweights, the cigar world's A-listers also came to lend their support, including Carlos Fuente Jr. of Arturo Fuente Cigars; Jorge Padrón of Padrón Cigars; Javier Estades, Janelle Rosenfeld and Gene Tipton of Altadis; Dan Carr, Benji Menendez, Michael Giannini, Rick Rodriguez and Victoria McKee of General Cigar; Robert, Sathya and Meera Levin of Ashton; Rocky and Nish Patel of Rocky Patel Premium Cigars Inc.; Jim Young of Davidoff; José "Pepin" Garcia of My Father Cigars along with daughter and son Janny and Jaime Garcia; Litto Gomez and Ines-Lorenzo Gomez of La Flor Dominicana; Eric Newman of J.C. Newman; Ernesto Perez-Carrillo Sr. and Jr. from EPC Cigar Co.; Alan Rubin of Alec Bradley Cigar Co.; Pete Johnson of Tatuaje; Rafael Nodal of Habana Cuba Cigar Co.; Les Mann of Colibri; Bill Paley of La Palina; Bill and Larry Sherman and Michael Herklots of Nat Sherman Cigars; Dion Giolito of Illusione Cigars; Jon Huber and Mike Conder of Crowned Heads LLC.; Wayne Suarez, formerly of Fuente; Michael Cellucci and Nicholas Melillo of Drew Estate; Stan Shuster of Grand Havana Room and Glen Case from Kristoff Cigars.
Comments
1 comment(s)
firoz sabuz — kushtia, khulna, Bangladesh, — April 20, 2013 2:45am ET
---
You must be logged in to post a comment.
Log In If You're Already Registered At Cigar Aficionado Online