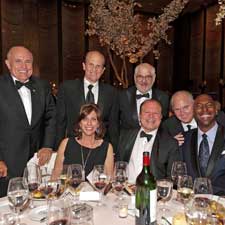 Joining Marvin R. Shanken at the head table were wife Hazel and, from left to right, former New York City mayor Rudy Giuliani, Michael Milken, Chuck Wagner, Rush Limbaugh and John Salley.
Night to Remember Charity Cigar Dinner Raises More Than a Million Dollars
(continued from page 1)
Each year, Shanken reaches into his cellar and pulls out four stellar bottles, but keeps the identities secret. In essence, nobody knows what wine they're bidding on until they've won the lot, the first of which ended up being a 1990 bottle of Château Latour. The top bid of $70,000 was made by Limbaugh. The next was revealed to be a bottle of Château Mouton Rothschild from 1975. It went to vintner and international businessman Pierluigi Tolaini for $50,000. A 2000 vintage of Château Margaux was had for $30,000 by Michael Gelband of Millennium Management. Jamie Coulter, former head of the Lone Star Restaurants group, won the final bid for a 1978 bottle of Château Latour, also at $30,000. As is the Night To Remember tradition, all winners of the mystery wine auction must open the bottles up immediately and share them with the rest of their respective tables.
"For the rest of you losers who DON'T have a bottle, you'll be drinking Caymus," said Shanken, sarcastically. The evening's auspicious list included Stephen Rust, president of Catalyst, Diageo North America and Diageo president Larry Schwartz; CEO of Campari Gerry Ruvo; Tom Celani of Celani Family Vineyards; David Pecker, chairman and CEO of American Media; Edward Rabin, former president of Hyatt Hotels Corp.; Lee Einsidler of the Sydney Frank Importing Co.; Proximo president and CEO Mark Teasdale; Jim Clerkin of Moët-Hennessy USA; Ray Herrmann of the Charmer Sunbelt Group: Condé Nast International chairman and CEO Jonathan Newhouse; Dan Carr, president of General Cigar Co.; and Javier Estades, Altadis U.S.A. Inc.'s general manager for premium cigars.
The waitstaff poured a luscious 2003 Caymus Cabernet Sauvignon Napa Valley Special Selection to accompany a main course of tender beef sirloin in truffle sauce, a densely layered Dauphinoise and roasted Asparagus.
Milken then took the microphone and explained the myriad advances in prostate cancer treatment, which spanned from immune system enhancing drugs that require no chemotherapy or radiation, to a method whereby doctors can grow a cancerous organ outside of the body and determine treatment through trial and error without any direct trauma to the actual patient.
"In 1993, I was diagnosed with prostate cancer and only given 12 to 20 months to live," said Milken. "I'm very excited to be here 20 years later. It all started here, at the Night To Remember. And with the advancements of precision medicine, it will end here. In 2020, I'm projecting an end to prostate cancer."
With optimistic applause, Shanken segued into the evening's main attraction: the 10-lot charity auction. But he turned the gavel over to Cigar Aficionado executive editor Gordon Mott, along with senior editor David Savona.
As the auction began, each guest was handed a packet of three cigars: The Flor de las Antillas Toro (Cigar Aficionado's 2012 Cigar of the Year), a Romeo by Romeo y Julieta Piramide (No. 3 Cigar of 2012) and a Padrón Family Reserve 85 Years (No. 4 Cigar of 2012). Shanken gave permission to light up the cigars, and the auction commenced.
Donated by Sherry-Lehmann president Chris Adams, Lot One was billed as containing some of the world's most collectible wines. The 12-bottle lot included a Château Margaux from 2005 (100 points, Wine Spectator), a 1986 Château Mouton Rothschild (99 points, WS), a Gaja Langhe Costa Russi from 2007 (97 points, WS) and a Fonseca Vintage Port from 1963 (98 points, WS). Estimated at $12,000, the lot sold for $30,000 to Jamie Coulter.
Next on the auction block was a golf outing at the renowned Teeth of the Dog golf course at Casa de Campo in the Dominican Republic as well as 250 cigars and a tour of Altadis's Tabacalera de Garcia factory. The lot went to Chuck Wagner, owner of Caymus wines, for $30,000.
Coulter will also be playing golf with Rocky Patel. For a closing bid of $15,000, he won the next lot of more than 300 Rocky Patel cigars and a round of golf at the Old Corkscrew course in Naples Florida.
Comments
1 comment(s)
firoz sabuz — kushtia, khulna, Bangladesh, — April 20, 2013 2:45am ET
---
You must be logged in to post a comment.
Log In If You're Already Registered At Cigar Aficionado Online