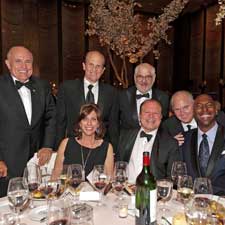 Joining Marvin R. Shanken at the head table were wife Hazel and, from left to right, former New York City mayor Rudy Giuliani, Michael Milken, Chuck Wagner, Rush Limbaugh and John Salley.
Night to Remember Charity Cigar Dinner Raises More Than a Million Dollars
If you would have walked passed the Four Seasons restaurant in New York City on Tuesday evening, you might not have thought twice about the fleet of limousines lining Park Avenue or the men in tuxedos filing into the restaurant's discrete Grill Room entrance two and three at a time. Another dry, obligatory fundraiser? Another soporific awards ceremony? No. That particular evening saw the confluence of three major industries coming together for a common cause—the complete eradication of prostate cancer. This was the Night To Remember, hosted by Marvin R. Shanken, editor and publisher of Cigar Aficionado and Wine Spectator magazines.
For almost two decades Shanken has been corralling the luminaries of the cigar, wine and spirits industries for this once-a-year event that's raised millions of dollars for the Prostate Cancer Foundation. Despite the antismoking laws and increasing city ordinances against the consumption of tobacco, the Night To Remember has always been underscored by fine food, exemplary wines and, yes, cigars.
"When I first became mayor of New York City, we worried about things like murder. Assault. Riots. Poverty," said New York's former mayor Rudolph Giuliani, himself a prostate cancer survivor. "If they have time now to concentrate on the size of your soda and cigars, I must have done one heck of a job when I was in office."
Giuliani was among the evening's distinguished guests and speakers, which included Michael Milken, founder and chairman of the Prostate Cancer Foundation, political commentator Rush Limbaugh and former pro basketball player John Salley.
"Michael Milken has done some great work," continued Giuliani. "If you can cure one cancer, it's helpful in the quest for the cure of ALL cancers. When I was diagnosed with prostate cancer, my doctor assured me that smoking cigars had nothing to do with it. I've been cancer-free for 12 years now. And when I make the choice to smoke cigars or how I want to live my life, I don't want that decision made for me. When government starts making those decisions, then we lose exactly what makes this country great."
Click Image to Enlarge
The evening began in the Grill Room of the iconic Four Seasons restaurant. Its classic interior has remained largely unchanged since it was first built in 1959. Usually, that equates to a dated, stuffy and dank dining room—not in this case. The signature walnut-paneled walls and shimmering Picasso curtain never really went out of style and provided an elegant backdrop to this affair as well as a feeling of time travel—the entire party smoked in that two-story-high space as if it were indeed 1959. Of course, this was an authorized event officially approved and licensed by the City of New York.
Though the reception cocktail hour featured Moët & Chandon Brut Imperial Champagne and an open bar manned by career bartenders, the real attraction was the selection of cigars-a veritable buffet of high-end smokes, which included Ashton VSG and Ashton Cabinet, Aging Room Quattro F-55, Alec Bradley Prensado, Arturo Fuente Rosado Sungrown, Cohiba Edición Diamante, Davidoff Year of the Snake, Diamond Crown Julius Caeser, E.P. Carrillo Cardinal, Estilo Cubano, Fuente Fuente OpusX, H. Upmann Legacy, Headley Grange, Illusione Epernay, Kristoff, La Aroma de Cuba Mi Amor Reserva, La Flor Dominicana Cameroon Cabinet, La Palina Maduro, La Vérité by Tatuaje, Macanudo 1968, Montecristo (both the Epic and New York Connoisseur Edition No. 2), My Father, Nat Sherman Timeless Collection, Oliva Connecticut Reserve and Oliva Serie V Melanio, Pura Sangre, Rocky Patel and Undercrown by Drew Estate.
Through a long, travertine-tiled corridor, the guests transitioned from the Grill Room to the Pool Room, which is the formal dining area of the restaurant. There, they were treated to a first course of wild mushroom risotto with breast of squab and foie gras along with an M. Chapoutier Châteauneuf-du-Pape White La Bernardine 2010.
"I'm thinking of changing the name of this event from the Night to Remember to the Hardcore Cigar Smokers' Club because this is where the hardcore smokers are," said Shanken before auctioning off his "mystery wines."
Comments
1 comment(s)
firoz sabuz — kushtia, khulna, Bangladesh, — April 20, 2013 2:45am ET
---
You must be logged in to post a comment.
Log In If You're Already Registered At Cigar Aficionado Online