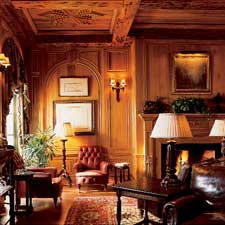 The Cloister's smoking lounge is an especially comfortable place to enjoy a cigar.
Sea Island Resort, Sea Island, Georgia
Bill Nestor
Posted: April 16, 2013
Access over a causeway to Sea Island, a private resort isle on the southern coast of Georgia, fashions an image of entering a mystical land. The largest salt marsh in the United States, an ecosystem rich with indigenous fauna and flora, surrounds the resort set along winding brackish tidal waterways. Nearby St. Simon and Little St. Simon islands and five miles of private Atlantic Ocean beach contribute to the fairytale setting.
Conserved habitats that define the location have done much to preserve the environment. Streets lined by Spanish moss covered live oaks, fertile estuaries, and open natural surroundings where land and sea meet create a harmonious existence with people and nature.
The legendary luxury Sea Island Resort presents a congenial and comfortable destination with accommodations at The Cloister, The Lodge and Cottages.
It is awash with grace, charm and southern hospitality that wed storied history and contemporary amenities, extending to a plentiful supply of cigars and places to smoke them.
Cigars are available at The Lodge's Oak Room Bar, Sea Island Forest Tea House and men's locker room, Beach Club, Plantation Snack Shack, The Cloister Sea Island River Bar and Davis Love Grill. The forty-plus varieties, ranging in price from $10-$105, include: Alec Bradley Prensado (former cigar of the year), Arturo Fuente Rosado Sungrown Magnum R, Ashton Cabinet, Avo XO, Camacho Liberty, Davidoff, Graycliff Chateau Grand Cru, Gurkha Exotica de Oriente, La Aurora Preferidos, Macanudo Vintage Maduro, Dominican Montecristo No. 2, Fuente Fuente OpusX, Padrón Aniversario 1964, Punch Gusto, Rocky Patel Limited Reserve Vintage ('90, '92 & '99), Romeo y Julieta.
The Cloister's smoking lounge is an especially comfortable place to enjoy a cigar. The spacious room adorned with comfy leather chairs, couches and Pecky cypress wood architecture creates a proper smoking space for ladies and gents. A cigar sommelier is on hand to facilitate selection, presentation, cutting, lighting and pairings with Cognac, port, Scotch or other beverage. Cigars can be enjoyed while golfing or afterwards on the veranda with a glass of scotch while listening to the bagpipers at sunset. Additional relaxed venues and cigar menus found throughout the resort offer guests variety of options.
The resort's Sea Island Golf Club incorporates three 18-hole courses—Plantation, Retreat, and Seaside. The McGladrey Classic, an official PGA Tour event, hosted by nearby resident Davis Love III, is contested annually on Seaside. Playing the links style course the day after the tournament was a challenging and pleasant round bathed in sunlight and stunning coastal scenery.
Sea Island Resort combines exceptional lodging, spa, golfing, dining and a variety of active leisure interests that include fishing, shooting, tennis, squash, bicycling, beach horseback riding, paddle-boarding and exploring nature by boat or on foot trails.
Dining options are many and sure to satisfy a diversity of tastes. Choices include:
The Georgian Room at The Cloister is the resort's premier fine dining restaurant. Chef Daniel Zeal presents a distinguished Southern cuisine accompanied by a comprehensive wine selection and elegant service.
You must be logged in to post a comment.
Log In If You're Already Registered At Cigar Aficionado Online