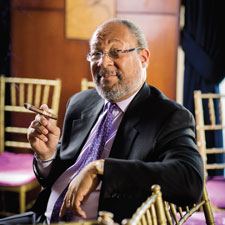 Richard Parsons might seem to be winding down. But between his Italian winery, board positions and many philanthropic activities, the former attorney still has plenty on his plate.
Corporate Titan
After a storied career that's spanned many arenas, Richard Parsons is glad to be moving along. But don't call it retirement. He has too much going on in his life.
(continued from page 3)
He thinks, though, that "it's going to be tough for some big banks to regain their footing. But they will. They've gotten through the crisis, and now they've got to rebuild their business and their credibility, and reshape their business models toward a more stable, less risk-oriented channel. But that'll be all right."
That holds equally true for Citigroup, he says. "My prediction is that Citigroup will emerge in the next three to five years as once again probably the preeminent bank in the world, in part because its international franchise is unparalleled. There's just nobody that has the kind of international scope Citigroup has. And its domestic difficulties—they'll work their way through that."
Many people have praised him for his leadership abilities, calling him a listener, a persuader, a diplomat. But others have criticized him for a failure to increase companies' value, saying he did not possess the visionary qualities necessary for the job. "Yeah," he says, "I would not call myself a visionary. I think we preserved a lot of value. I was good at leadership and management, but I would not give myself equal marks as a visionary."
Parsons grew up in a time of racial conflict, but he says he personally has experienced "very little" of "the ugly face of prejudice." A major exception was when he went down to Virginia to visit his grandparents in the 1950s, when segregation ruled the South, and he encountered examples like separate water fountains and segregated beaches—"My experience with it was almost like a visitor to a foreign land—i.e., Virginia."
He says he is "criticized by some of my African-American colleagues who say you shouldn't tell people that you haven't experienced prejudice or you don't see it out there, because it's there and it's real." But he has managed, he says, "more by dint of my own personality to get people into a color-blind mode more quickly. I don't have a sense of victimization. I wasn't bred that way. I never acquired it. So I don't look for it. I don't assume that everything that happens to me that's shitty is because I'm black. I didn't get that job, so it must be prejudice. It's not how I'm geared or built."
But, he says, "there is an almost bred-in-the-bone in America prejudice that manifests itself almost institutionally." He cites his time as a lawyer, when he was for a while a hiring partner and recruited African-Americans to diversify his firm. "And one of the things I noticed was that if a kid who is from the middle of the class at Harvard, white kid, would come in and you give an assignment, and half of them would trip over their first assignment, and you'd sit down with them, and it was almost bred in everybody's expectations, we know you're a Harvard guy, let's work with you, you didn't get this right, and you'd forgive them their first or second less-than-stellar outing." For "a black kid, not so. So I learned to tell all these young black associates, you really need to nail your first outings, and get help if you want to. Because what would happen is if a black kid turned in something that was not right, you could just see it in people's faces—there, you knew they couldn't do it."
At Providence Equity Partners, he's a senior adviser. "I spent years in my professional life in the media and entertainment business," which is a focus of the private equity investment firm. "So I know all the players. I know most of the businesses. And in an advisory way I can help them target investments." 
The Grand Havana Room, he says, "is a very elegant and romantic setting." Stanley Shuster, the owner—there's also one in Beverly Hills—has created "a very comfortable, spacious place." There's "an excellent kitchen, a nice bar scene and a great humidor. It's an oasis, a great place to just relax and have a cigar, and take a break from the madness of the city." It's also a stylish spot for meeting people with similar interests, entertaining friends and clients and holding business meetings.
The club has nearly 900 members, he says. A recommendation is required; there's a membership committee and a waiting list of about a year.
Parsons and his wife Laura—they've been married 44 years—live in Tribeca. They have three children and two grandchildren.
What about the future? "Everybody assumes because you used to play at a certain level you want to stay there. I don't. I think of my career almost like a relay race. I got the stick, I ran my leg and I've now handed off the stick. I can go into the stands and cheer for the team, but that's it. I'm not on the track anymore professionally. I'm on my personal track."
The vineyard gives him a great deal of pleasure, as does Minton's. "And doing something in public education." He is also "doing some stuff in Africa. We started a little fund, PanAfrican Investment Co., working with certain African governments on what I call nation-building. Some friends [including billionaire philanthropist Ronald Lauder] and I, we've put a few bucks together—we're working principally in Rwanda right now but we're going to be spreading out through sub-Saharan Africa—and we're doing some investments focusing mostly on infrastructure, because, technology notwithstanding, if you don't have power, if you don't have clean water, if you don't have roads, if you don't have railroads, you can't build a country."
You must be logged in to post a comment.
Log In If You're Already Registered At Cigar Aficionado Online