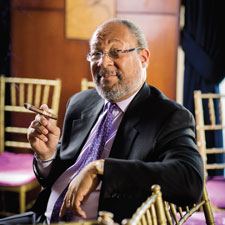 Richard Parsons might seem to be winding down. But between his Italian winery, board positions and many philanthropic activities, the former attorney still has plenty on his plate.
Corporate Titan
After a storied career that's spanned many arenas, Richard Parsons is glad to be moving along. But don't call it retirement. He has too much going on in his life.
(continued from page 2)
Parsons was born and grew up, one of five children in his family, in the Bedford-Stuyvesant section of Brooklyn, and then, from age six, South Jamaica, Queens. He attended public schools, and, when he was only 16, the University of Hawaii. Why Hawaii?
He didn't get into his first choice, Princeton—he was wait-listed.  ("My mother always told me, you don't have any money, you can't go to Princeton, you have to go to C.C.N.Y."). And although he was accepted at City College of New York, "I was leaving home!"
"I sat next to in high school, in the physics lab, this girl, she was from Hawaii and she was stunning." He was accepted. He had played basketball at John Adams High School ("we were the Queens champions"), and Hawaii "said you can play basketball for us."
So he went halfway across the Pacific, "had a lot of fun, played ball, met the woman who was my girlfriend, who I ultimately married, who is my wife today. And it was time to shape up or ship out. She said I ought to think about law school, because I would argue with a fence post. So I went to Albany Law School. I had been a goof-off in college, but now I was married and my wife was working to put me through law school, so I actually applied myself and did reasonably well." Actually, he graduated at the top of his class, in 1971.
Soon, he was working for Nelson A. Rockefeller, New York's governor at the time. "And it was not for several years that I told him that my grandfather had been head groundskeeper on the Rockefeller estate," Kykuit, in Westchester County, north of New York City.
"My grandfather, on my mother's side, died when I was three, so I never really knew him. But my mother used to tell stories about having met the original John D. Rockefeller when she was a little kid, and gotten a dime from him. And she knew Nelson, as a kid."
Rockefeller was named vice president in 1974 by President Gerald Ford, and Parsons went along; he wound up working as a senior White House aide under Ford. When Parsons returned to New York, Rockefeller said "why don't you live on the estate for a while?" Parsons says. "I wanted to go into private law practice. He said, you work for me in the family offices. You'll be my lawyer. I'll give you a little house on the estate. You can stay there and you can look around and see where you want to land. So we go back to the estate and I told him the story of my grandfather. He didn't know about it, because my grandfather's last name was Judd."
In 1977, Parsons was hired by Patterson, Belknap, Webb & Tyler, a top white-shoe law firm in Manhattan. He rapidly advanced, making partner  in two years. Eventually, he became managing partner, leaving in 1988 for the Dime Savings Bank. Dime led to Time Warner (in 1995, he was named its president) and then to Citigroup.
Looking back at his tenure at Time Warner, he says, "I gave myself a B.
"I think we did OK. We got the company through some tough passages and back on its feet." But dealing with the difficulties of the $350 billion merger with America Online in January 2000, he says, was difficult. "Why a B? Part of my job was to figure out AOL after I became CEO. The merger was driven by my predecessor, but I inherited it. I never figured it out."
As far as Citigroup goes, he says, he joined its board in 1996, so "I was there when the world hit the wall in 2008, but particularly Citi. So you can't escape some responsibility for that. I was part of the group that was supposed to be superintending this thing when we hit an iceberg, so that wasn't so good." His job "after we hit the fence was just to make sure we got through the crisis and to keep both internally and externally everybody calm while you work on the issues you have to work on to get through a crisis. And I think we were successful at that."
Parsons has been a major player during tumultuous financial times. He believes we have come through them, and he is optimistic on the future. "The American banking system and financial system is still the anchor for world finance," he says, adding that American preeminence "has been sustained and remains intact."
You must be logged in to post a comment.
Log In If You're Already Registered At Cigar Aficionado Online