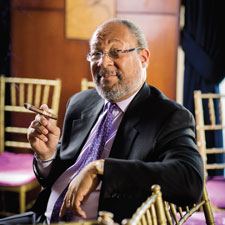 Richard Parsons might seem to be winding down. But between his Italian winery, board positions and many philanthropic activities, the former attorney still has plenty on his plate.
Corporate Titan
After a storied career that's spanned many arenas, Richard Parsons is glad to be moving along. But don't call it retirement. He has too much going on in his life.
(continued from page 1)
A more business-oriented pastime is the vineyard he owns in Montalcino, in the middle of Tuscany. "That's a fun project. We don't make money, but we make a lot of wine. The vineyard is about 20 acres, and we also rent a couple of other fields in the area, so we have some variety." Its name is Il Palazzone, and the main wine is a Brunello di Montalcino, 100 percent Sangiovese. "Brunello di Montalcino was the first officially recognized D.O.C.G. [Denominazione di Origine Controllata e Garantita] wine in Italy. It's a very virile, elegant red wine." Brunello di Montalcino, he says, is considered perhaps the best Italian red.
"We've been going along making about 1,500 cases a year," he says. "It's been kind of a hobby. Now that I'm retired and have some more time to put into it I'm trying to turn it into a real business. I define a business as something that makes money, not loses money. I built a new cantina, which is basically a winery, on the property. I rented these additional fields and I'm going to take the production up to about 4,500 cases." (If you want to buy his Brunello retail in the U.S. it's mainly at Italian Wine Merchants in New York City, near Union Square; it's also available at restaurants, including Del Posto, and at the Grand Havana Room.)
Il Palazzone also produces extra virgin olive oil. And there's a blended wine, a Super Tuscan, named for his parents, Lorenzo & Isabelle (his father was an electrical technician, his mother a homemaker).
Another major project, in fact a passion, is the renovation and reopening of Minton's Playhouse, a legendary club in the history of jazz, where Dizzy Gillespie, Charlie Parker and others pioneered the development of bebop. Minton's, at West 118th Street and St. Nicholas Avenue in Harlem, had closed in the 1970s, reopened in 2006 and closed again in 2010.
Parsons says he wishes to create the kind of jazz supper club he has always wanted to go to—and take his wife to, for good music—as well as to help "create momentum around the economic revitalization of Harlem."
And "I'm chairman of the Jazz Foundation of America. It's a philanthropy—we raise money and take care of old jazz musicians, blues musicians who have played all their lives, but because of the structure of that business they don't have pensions, and they can't play anymore, they don't play around town anymore, because there are no gigs. We found all these jazz musicians from the 1940s and '50s, still up in Harlem. They're 70, 80 years old and can't get work. We look after them."
The idea, he says, is to "bring Minton's into the 21st century in terms of a venue and let's give some of these old jazz musicians a place to come and gig again." Minton's is to reopen at its old 118th Street spot; around the corner on St. Nicholas, where there was a vacant space, will be a restaurant, the Cecil, named for the hotel that formerly occupied the site. Restaurateur Alexander Smalls will be executive chef for both.
Renovation work, "basically a gut renovation," is going on. "It's a multimillion-dollar project" (his own money so far, though he will probably recruit other investors) "to create the kind of venue you want, so people will come not only from around the city but around the country and the world and see what's going on at the world-famous—at least in the jazz world—Minton's. I'm hoping to open in June."
Then there's the Education Reform Commission, which New York Governor Andrew Cuomo appointed him to as chairman last year to suggest ways to improve student performance. "I have several passions. One is some form of public service, particularly education. Because I was just a kid from Bedford-Stuyvesant. I got lucky but I was in a position to get lucky because I got an education. That was the key to success."
For Parsons, "this is a labor of love, a labor of assumed responsibility. If you've been lucky enough to extract from this culture and society the kind of good living I've been able to, you really ought to try to do something to make sure the way is paved for others to do the same."
You must be logged in to post a comment.
Log In If You're Already Registered At Cigar Aficionado Online