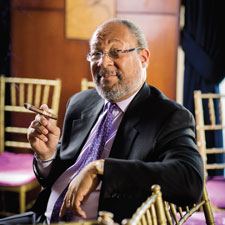 Richard Parsons might seem to be winding down. But between his Italian winery, board positions and many philanthropic activities, the former attorney still has plenty on his plate.
Corporate Titan
After a storied career that's spanned many arenas, Richard Parsons is glad to be moving along. But don't call it retirement. He has too much going on in his life.
Richard Parsons would like you to know that he is a happy man.
Why not? Parsons is former chairman of Citigroup and former chairman and chief executive of Time Warner, with a personal worth estimated at $100 million. He is sitting in a 47th-floor meeting room on West 57th Street in Manhattan at Providence Equity Partners LLC, the financial firm where he is a senior advisor. If Parsons had been four blocks downtown at the Grand Havana Room—the exclusive members-only cigar club where he is chairman of the board, and where celebrities have their own humidors and compatriots from the world of high finance have been known to hang out—he most probably would have a cigar in hand.
"I'm happy right now, that's for sure," he says. "I'm a happy guy anyway, but right now I'm in a good place. I have spent 45 years of a professional life doing a lot of interesting things, and having a fair amount of success, and putting myself into a position where I can now do not things I have to do but things I want to do. Almost everything I'm involved in now is something I want to be involved in, because it speaks to something inside me."
Parsons is one of the few African-Americans to have headed a Fortune 500 company, and he was chief of two of them. He was chairman of Time Warner from 2003–2008 (and CEO from 2002–2007) and chairman of Citigroup from 2009 to 2012. From the late 1980s to the mid-1990s, he ran the Dime Savings Bank.
In 2008, he was appointed a member of President-Elect Obama's Transition Economic Advisory Board. He is also chairman of the Apollo Theater Foundation in Harlem, and a trustee of the Museum of Modern Art and the American Museum of Natural History. He is on the boards of Estée Lauder, the Lazard financial firm and Madison Square Garden. And that's only a partial list of his credentials, past and present.
He is 64 now—he turns 65 on April 4—and despite his many current activities, he says he considers himself retired. He is still an imposing, if soft-spoken, presence, all six-feet-four of him. His beard is graying, and these days his midsection offers evidence of the good life. The image he presents is one of serenity, of humility, with the humorously self-deprecating demeanor of someone with nothing left to prove.
His smile is wide and relaxed. Descriptions often given of him in his long career include the words "smooth," "diplomatic" and "friendly giant," and this day there will be examples of them all.
He will convey these as he discusses his encounter with Fidel Castro; the vineyard he owns in Italy and the Brunello di Montalcino it produces; his plans for a new jazz club in Harlem; the commission he was appointed to head by New York Governor Andrew Cuomo that was created to help improve student education; his rise from the streets of Bedford-Stuyvesant, Brooklyn and South Jamaica, Queens, to the highest levels of corporate finance; his and his grandfather's connection with the late Vice President and New York Governor Nelson A. Rockefeller; his view of the financial world, and America's future; his own assessment of the pluses and minuses of his career, especially his years at Time Warner and Citigroup; his take on race relations; and the cigars, and the cigar club, he loves.
"I was introduced to cigar smoking by Fidel Castro," Parsons says. "I had been a cigarette smoker, but when my son was born 40 years ago, I quit." Then, "through a meeting orchestrated in the mid-1990s by Peggy Dulany, David Rockefeller's daughter, I met Castro. He was up here for the United Nations. He took a shine to me and I sort of took a shine to him, as a personality. And he insisted that I try one of the cigars he had with him, a Cohiba Esplendido." Parsons "fell in love with it. There's an elegance, almost a romance."
He smokes two or three cigars a week. "I tend not to smoke during the weekday because I'm busy. I smoke on weekends, or whenever I go to the Grand Havana Room." His favorite—"am I allowed to incriminate myself or would you advise against it?"—is "a good Cuban cigar. I still like the Cohiba Esplendido. And the Montecristo. I'm a No. 3 guy. No. 2s are good but I'm a No. 3 guy. If I'm up for a quick smoke I'll do a Robusto. And I like Romeo y Julieta." For non-Cubans, he prefers "the OpusX. And Davidoff makes a good cigar."
You must be logged in to post a comment.
Log In If You're Already Registered At Cigar Aficionado Online