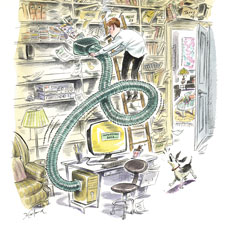 Illustration/Gary Hovland
Digital Clutter-Killers
Clear off your dusty shelves and make a host of old-school media compact and accessible by converting them into convenient digital files
(continued from page 3)
Here again, it's hard to argue with the Barnes & Noble and Amazon offerings if reading is your primary objective. A case can be made for the Google's $200 Nexus 7 tablet or Apple's $330 iPad Mini if games, movies, business productivity and so forth are high on your priority list, but the color-screen Barnes & Noble Nook HD and Amazon Kindle Fire HD, each priced at $199, offer respectable selections in these content categories as well, and the reading experience is unsurpassed.
This time out, I'd give a modest advantage to the Barnes & Noble product, based on its superior, higher-resolution color screen, lighter weight (11.1 ounces versus 13.9 ounces) and expandable memory.  Color book and magazine files are larger than straight text, and while the Kindle starts out with 16 gigabytes of memory versus the Nook's 8 gigabytes, the Nook's memory expansion slot lets you add up to 64 gigabytes more—you might want that extra space to store video files when you see how good they look on these devices. For the color models, the included AC adapter represents a $20 advantage over the Kindle accessory route.
When it comes to my electronic reading devices I'm really not the sharing type, but if I were interested in allowing my family to fiddle with a shared color e-reader, the Nook offers a personal profile system that lets you assign different content to different password-protected users (no, my darling daughter, Fifty Shades of Grey isn't a coloring book).
There are significant factors that might tip your hand toward the Kindle HD, though. First is membership in Amazon Prime, the service that provides not only two-day shipping on all Amazon purchases at no additional charge (beyond the annual $79 fee, that is), but also movie streaming from a substantial library, and the option to borrow a book a month from a respectable collection (Harry Potter, anyone?).  And even without a Prime membership, if watching movies and TV shows or running apps on your e-reader are significant considerations, Amazon offers a much wider selection at this writing.
DVD Disc to Disk Drive
The DVDs I've accumulated over the years now take up five shelves in my living room. Worse yet, many are packed two deep, so I can't even see what's in the back row. While I'm a firm believer in the power of alphabetical order, that doesn't mean I scrupulously adhere to it—where the heck is that copy of Pulp Fiction anyway?  And more often than not, when I want to watch one of the movies in my collection, I'm not sitting comfy on the couch in the living room, but on a commuter train or a plane with a laptop or tablet in hand. No doubt about it—time to digitize.
First, a quick word about the legalities of "ripping' a DVD disc to create a digital version. Officially, the Digital Millennium Copyright Act prohibits circumventing copyright protection on a DVD disc, and most commercial DVDs are copy-protected. However, if you purchased a disc legally, you have the right to enjoy that fragile, scratchable, breakable media in the ways you see fit. Rip a movie and post it on a website for others to download? Maybe not. Rip a movie so you can combat boredom at 30,000 feet? Nobody's going to arrest you.
Many software tools are available to convert a silver disc to a digital format on your hard drive. Being primarily a PC kind of guy, I've relied on two free programs for this purpose for years. DVD Shrink (downloadable from afterdawn.com) works on most DVDs, offering the option to compress the roughly eight-gigabyte contents of a DVD down to about half the size with little loss of quality. If DVD Shrink runs into copy protection problems, there's DVD Decrypter, another free program (downloadable at dvddecrypter.org.uk/), which will make a same-size copy of any DVD I've encountered to a hard drive. You can then run DVD Shrink on the resulting files if you'd prefer a more portable version.
How do you play the ripped files? The DVD player software that came with your computer may or may not allow you to open a hard-drive folder and play it as if it were a physical disc. If not, there's a simple solution: a program called VLC, available free from www.videolan.org/vlc for both Windows and Macs. VLC will play just about any video or audio file you throw at it, from ripped discs to downloaded files from the Internet.
Finally, how about taking your ripped discs on the road? My free software tool of choice here is Handbrake (available from handbrake.fr for PCs and Macs). Handbrake can convert video files to the MPEG4 format, which will play with basically any laptop, tablet, cell phone, smart TV and portable game console. There are also preset file compression options for Apple and Android products, making a potentially complex conversion process point-and-click simple.
You must be logged in to post a comment.
Log In If You're Already Registered At Cigar Aficionado Online