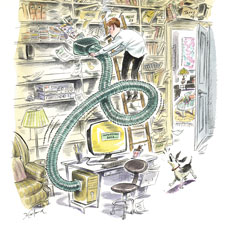 Illustration/Gary Hovland
Digital Clutter-Killers
Clear off your dusty shelves and make a host of old-school media compact and accessible by converting them into convenient digital files
(continued from page 2)
For the past few years, when looking for a good read, I've grabbed an e-book reader device and headed for the Internet. For new and recent books, the savings can be substantial over printed copies, and the convenience can't be beat. And, truth be told, the classic volumes that have remained dusty and untouched on my overcrowded bookshelf for ages are starting to migrate out of the house. No, I wouldn't dream of tossing a perfectly good book in the trash—that's heresy. But the local public library is happy to receive donations of volumes in good condition, and if I'm seized with the urge to reread my Chaucer, Dickens, Jules Verne or Arthur Conan Doyle, I can download them freely, either from Project Gutenberg (www.gutenberg.org), Google Books (books.google.com), or the sites of e-book reader creators Amazon and Barnes & Noble (all sorts of goodies pop up if you enter "free" in their search engines).
You can read e-books on a tablet, or even your cell phone, but when it comes to size, shape, screen quality, portability and battery life, it's tough to beat a dedicated e-book reader. And recently introduced models have made them more appealing than ever.
In a major shift from first-generation e-readers, both Amazon and Barnes & Noble now offer black-and-white devices with built-in lights.  They still use the electronic ink (e-ink) technology that makes them perfectly legible even in direct sunlight (try that trick with your iPad) and delivers exceptional battery life.
But Barnes & Noble's Simple Touch with GlowLight and Amazon's Kindle Paperwhite will now illuminate with a soft, comforting glow, making them perfect bedtime reading companions. Both the Barnes & Noble and Amazon models feature 6-inch touch-sensitive screens and sell for $119 with Wi-Fi networking to download purchases. There's also a Kindle Paperwhite model with built-in 3G cellular connectivity for downloading when you don't have access to a Wi-Fi network. It sells at a $60 premium up front, but there are no additional per-download connection charges.
The $119 price quoted for the Amazon Kindle includes so-called "special offers"—what you and I would call ads—while the Nook is entirely ad-free. At first blush this sounds like a big deal, but those ads are only shown on the lock screen (the image that comes up automatically when the device goes unused for an extended period) and along a slim band on the main menu—there's no intrusion while you're actually reading. For an additional $20, you can purchase a Kindle with no advertising. I'd say keep the $20 in your own pocket, or invest it in more book downloads.
Besides, if you find that this peripheral whiff of commercialism interferes with your Kindle satisfaction, you can pony up the $20 after purchase to banish the offending ads.
Both the Nook Simple Touch with GlowLight and the Kindle Paperwhite, despite their conflicting and confusing methods for calculating battery life in their advertising, will run long enough to read several novels between charges. And they each boast about the same very light weight—6.95 ounces for the Nook versus 7.5 for the Kindle—and dramatically thin profile (the Nook is 0.47 inches thick, the Kindle 0.36 inches). Want to read that thick-as-your-arm historical novel that would make your briefcase feel like you're hauling anvils? Less than 8 ounces.  Want to add a bookshelf's worth of reference material, The Rise and Fall of the Roman Empire and everything Tolkien ever wrote? Less than 8 ounces. It's enough to bring a satisfied smile to any bibliophile.
The Nook Simple Touch with GlowLight has four advantages to consider. It doesn't show ads. It comes with a wall charger, a $10 extra-cost accessory with the Kindle (though you can simply plug the USB cable into your computer and charge the Kindle that way). The Nook weighs about half an ounce less than the Kindle Paperwhite. And while both models ship with 2 gigabytes of internal memory, the Nook is expandable, with a slot for add-on microSD cards, a feature lacking on the Kindle.
Bottom line, though, the Kindle has enough room for roughly 1,000 books even without add-on memory, and wins out in what many will consider the most important head-to-head comparison category—it has a superior screen. The higher-resolution display (212 pixels per inch versus 167) is sharper and has higher contrast. The screen color is slightly whiter, another plus.  And most important, the Kindle's built-in lighting casts brighter and more even illumination across the screen than the Nook provides.
For reading straight-text books, the lighted-screen monochrome e-book readers deliver a winning combination of low price, high capacity and portability. If you're interested in reading illustrated magazines or children's books on your electronic device, though, you might want to step up to a full-color e-book reader—essentially a small-scale tablet with a $200 price.
You must be logged in to post a comment.
Log In If You're Already Registered At Cigar Aficionado Online