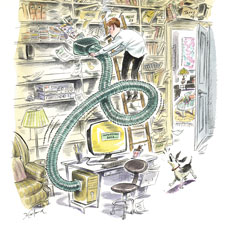 Illustration/Gary Hovland
Digital Clutter-Killers
Clear off your dusty shelves and make a host of old-school media compact and accessible by converting them into convenient digital files
(continued from page 1)
I suspect that, like me, most of you started taking pictures long before the age of digital cameras, and have prints, negatives and possibly slides both from your own efforts and those of relatives from previous generations. It's tough to enjoy these images when they're stashed away in shoeboxes, though, and your Facebook friends certainly can't see them. It's scanning time.
The HP Officejet described above does a nice job scanning photographic prints, but you'll get even better results with the Epson Perfection V500 Photo scanner ($150), which handles not only paper prints but slides and negatives as well. And yes, it can also scan documents, albeit without an automatic document feeder.
One feature that sets the Epson apart from the competition is a built-in technology called Digital ICE. A key challenge when scanning slides and negatives is dealing with dust on the original—you're enlarging them far more than you would with a printed image, and even minor flaws become very noticeable. Digital ICE analyzes your scan and automatically removes most of these specks and imperfections. It's not perfect, but it's a huge help. Another useful function, found in the included software, is a color restoration process that brings faded photos back to life.
The Perfection V500 also speeds up the scanning process by handling multiple photos at once. Place several pictures on the 8.5 x 11.7 inch glass and the scanning software will detect that there are a number of separate shots, processing them as individual images during a single scanning pass. You can also scan two strips of negatives (up to six photos each) or four 35mm slides at once.
A key part of my scanning routine is Adobe Photoshop Elements 11, a $100 photo-editing program available for both PCs and Macs. While the full Photoshop program sells for $700, Photoshop Elements draws on the same sophisticated technology, strips out some pro-level features and lets the rest of us improve our photos tremendously with minimum effort. While the Elements feature set is both wide and deep, there are two distinctive functions that make it indispensable for me. The first is the Healing Brush. If there's a speck on your scan, this tool intelligently analyzes the area around the flaw and eliminates it. It's fast, easy, and nearly miraculous.
The other standout Elements feature is the Elements Organizer, a powerful system for bringing order to your photo collection. Organizer lets you tag pictures with relevant labels, then quickly search for photos based on that information. You can use a single tag—say, my daughter's name. But you can also combine tags—I can look for a photo of my daughter with our dog or my daughter on Thanksgiving, and have all relevant images instantly appear. What's more, Elements Organizer can streamline the tagging process by searching for a face you've identified throughout your photo collection. Yes, you'll want to review the results before accepting them, but I've found this face recognition process very accurate and tremendously helpful.
There's one additional consideration that must be noted when it comes to photo scanning—it's a time-consuming task, particularly when it comes to slides and negatives. You'll need to insert individual filmstrips or slides into a plastic carrier, and the scanning process itself is much slower than a relatively low-resolution document scan. I'm happy to fiddle with photos while watching sitcoms in the evening, but if you have a large number of photos you want digitized quickly, an outside service is probably your best bet. I sent a selection of prints, negatives and slides to ScanMyPhotos.com and they returned clean, handsome high-resolution scans on DVD. You can have individual pictures scanned (prices vary by quantity, starting at 12 cents per print, 39 cents per negative frame, and 74 cents per slide). If you have a substantial collection of prints or slides to digitize, though, take a look at their $245 prepaid box offers. They'll send you an empty box that you can fill up with photos.
The box for prints holds about 1,800 4x6's (though you can mix and match print sizes) and the slide box holds about 540 35mm slides. For that one-time investment, you get an instant family archive to share with family and friends, with no muss, fuss or bother.
Book 'em
Ink on paper is terrific technology—inexpensive, highly portable, widely available, easy to share—but even this former book editor and longtime magazine writer has come to appreciate the advantages of digital e-book readers. You can fit an entire library in a device that weighs half a pound. Order a book online and have it delivered in seconds. Change the size of text to suit your preferences. Good stuff.
You must be logged in to post a comment.
Log In If You're Already Registered At Cigar Aficionado Online