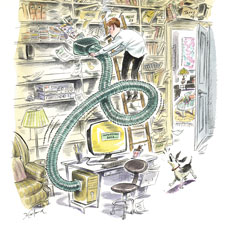 Illustration/Gary Hovland
Digital Clutter-Killers
Clear off your dusty shelves and make a host of old-school media compact and accessible by converting them into convenient digital files
My home is full of shelves that are packed with… stuff. Dusty stuff. Messy stuff. Stuff I can't find when I actually need it. Caught up in the spring cleaning spirit (and following a not-so-gentle nudge from my long-suffering wife), I decided to try paring down the piles and stacks, transforming documents, photos, books and DVDs into easily stored and accessed digital files. A few years back, hard-drive storage costs would have made this a pricey proposition, but with huge hard drives now incredibly cheap, I can fit thousands of photos and hundreds of movies on a drive that costs about $100 at my local office supply store.
Frankly, at the end of the day, the major benefit was turning disorganized junk into useful, searchable information, but I did manage to clear away some shelf and drawer space in the process. Here are some of the tools and techniques I brought to the task.
Banishing Paper
Admittedly, as someone who works from home, I may have more accumulated paperwork than most folks, but much of it has nothing to do with business. Like the three bags full of recipes clipped from newspapers over the course of years—never used any of them, of course, since there's no rhyme or reason to a bag full of recipes, but that doesn't mean I'm prepared to part with them. And as a long-form tax filer, there are enough receipts in my home office to create a very respectable bonfire.
The answer is clearly a document scanner that connects to my computer and lets me transform paper to digital files. And there are lots of options to consider.
One increasingly popular choice is the multifunction printer, which incorporates printing, scanning and copying in a single product, often adding faxing to the list (yes, despite the fact that faxing is a 150-year-old technology, it refuses to die). You'll see extraordinarily inexpensive versions on store shelves today, but on the low end you get what you pay for, both in print quality and scanning performance. On the other hand, I had an excellent experience with the HP Officejet Pro 8600 Plus, now available for $230. Printing is fast and good-looking for both documents and photos, and the Pro 8600 Plus supports automated two-sided document printing to save on paper. You also get built-in networking capability, both wired and wireless, which means you can both print and scan using any computer on your home network. In fact, you can even scan a document using the touch-screen LCD on the Officejet and have it sent directly to your computer, a huge convenience.
You can place a single sheet directly onto the glass, but when you have lots of documents to digitize, you'll be grateful for the automatic document feeder that can hold up to 50 sheets and scan either one or both sides.
Downsides to the HP? It's large, at 19.4 x 18.1 x 12.4 inches and nearly 30 pounds. And while it delivers handsome scans, it does take a while to do the job, particularly when tackling double-sided originals, since it feeds the document through twice. If you want to turn a filing cabinet full of documents into computer files, a preferable alternative is the new lightning-fast Fujitsu ScanSnap iX500, which scans both sides of a document at the same time at up to 25 pages per minute. Unlike the HP, this is a scanner-only device, and requires you to use the motorized feeder, which holds up to 50 pages, to input documents rather than lay them down on a flat surface (there's a plastic sleeve to protect delicate originals). The ScanSnap is a compact 11.5 x 6.2 x 6.6 inches, so it doesn't require extensive tabletop real estate like the HP Officejet. And, at a little over six pounds, the Fujitsu can be put away when not in use.
The provided software is terrific. You can save your documents as Microsoft Word documents or searchable PDF files or load up a stack of business cards and let the CardMinder program automatically place the name, address, phone number and other information into appropriate fields in your contact management software. An available app even allows you to scan wirelessly to mobile phones and tablets. Retailing at $495, the ScanSnap iX500 is pricier than the HP, but if you want industrial-strength scanning capabilities in a compact package, this is the tool of choice.
Picture Perfect
You must be logged in to post a comment.
Log In If You're Already Registered At Cigar Aficionado Online