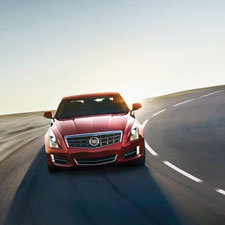 The 2013 Cadillac ATS delivers a very solid mix of performance, styling and technology.
The Best In Luxury Cars 2013
With smaller, lighter, faster, greener and more techy entries, car makers continue to widen the road for what is considered high-line driving
(continued from page 5)
We'll wrap up our annual Best-of awards with a tip of the hat to the Lexus LF-LC, a hybrid supercar concept that we first previewed at the 2012 Detroit Auto Show and visited again with an update at the Sydney (Australia) Motor Show last October. Officials with Toyota's luxury brand remain cagey about plans for the dynamic design, which features the boldest use yet of the new Lexus spindle-grille nose. But odds are we'll see it reappear—at the very least heavily influencing the look of the replacement for the original Lexus supercar, the LFA. And don't be surprised if, like the concept, a production version uses hybrid power primarily to improve performance.
Incidentally, the two models that tied for our pick of Best Luxury Concept of 2012 aren't going to disappear either. The Lincoln MKZ was being readied for production as we reached this issue's deadline. As for the Acura NSX, stand by. That reborn supercar likely will reach U.S. showrooms sometime in 2014.
Paul A. Eisenstein is publisher of the website TheDetroitBureau.com.
You must be logged in to post a comment.
Log In If You're Already Registered At Cigar Aficionado Online