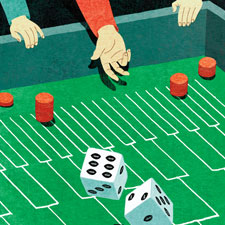 Illustration/James Steinberg
Betting the Brackets
Handicapping tournaments for sporting events are big attractions for veteran gamblers and newcomers alike
(continued from page 2)
Anybody who thought that Mike Greene had a lock just because he had an advantage going into the final round of games was sadly mistaken. "I was very ahead at the beginning," Greene acknowledges, weeks after my meal with Bryan Leaonard. "But Bryan won a bunch of games by New Year's Day. We were at the point where if he won two more games, I would have lost the contest."
How was he feeling in the days leading up to New Year's? "There was a lot of work and stress and angst."
Then, on January 5, when the Mississippi Rebels played against the Pittsburgh Panthers in the NCAA Compass Bowl, Greene was rooting for Ole Miss, which he had picked. Leonard had selected Pittsburgh at plus-three. When Mississippi won 38–17, Greene knew he'd be receiving a windfall. However, the celebration was muted and the cash prize went straight into his bankroll. "I had a nice dinner that evening," says Greene. "But it was more relief than celebration. I went into the final with a big lead and felt the contest slowly slipping away."
And for a gambler who makes a living out of beating sports, there was something more than money at play. It's part of what drove Greene, normally a low-profile guy, to enter such a public event in the first place. "I did it out of pride and money," he acknowledges, pointing out that going up against gamblers is a dimension beyond simply going up against a sports book.
"First it was positive equity, since we all put up $5,000 and the casino kicked in $10,000. Then, even though it was anxiety provoking, the contest gave me a chance to go head-to-head with quality people. It was very competitive and, coming in as a bit of an outsider, very gratifying to beat these guys."

Michael Kaplan is a Cigar Aficionado contributing editor.
You must be logged in to post a comment.
Log In If You're Already Registered At Cigar Aficionado Online