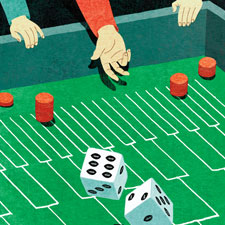 Illustration/James Steinberg
Betting the Brackets
Handicapping tournaments for sporting events are big attractions for veteran gamblers and newcomers alike
(continued from page 1)
As the days of March Madness pass, and you keep winning, the value of your entry fee goes up while the number of opponents goes down. This is the point where you can find some leverage. If your buy-in was worth $20.46 when there were, say, 2,604 entries and $53,300 in the pot, by the time there are 50 contenders left, each ticket is worth $1,066. If somebody is willing to buy one-fifth of your potential winnings for $213, you lock in a profit, whether or not you win the tournament.
During football season, Station offers a series of different low buy-in tournaments, including a Last Man Standing. The one where you can't possibly lose, though, is the season-long Great Giveaway. It offers a variety of wagering formats, and, as long as you enter every week and always lose, you get back your entry fees in free slot-play when the season is over. "That," says Bryan Leonard, "is a no-brainer for anyone in town. I have friends who don't follow sports at all, and they get into the Station contest because it gives them something to root for and won't cost them anything."
Regardless of what kind of sports-betting tournament you enter—the largest and the longest running is the Las Vegas Hilton's SuperContest, which goes through the NFL season and attracted 745 contestants in 2012, each of whom put up $1,500 to buy in—there is one golden rule that should be followed: Never take a bad number. "Guys come in with their best bets, and they stick to it regardless of the point spread," says Leonard. "I don't do it that way. I handicap numbers, not teams." His point is that in betting tournaments, you rarely get the best number. If it's moved into a worse spot, he explains, you need a good reason to bet it under that condition. Otherwise, you're putting yourself at a disadvantage.
Steve Fezzik has a sensible, simple solution: "Go across the street and make the bet that you want to make. Then find a more favorable opportunity for the tournament."
While everyone suggests doing all of the standard research on games and teams and trying to figure out how your opponent tends to bet—RJ Bell calls that "the meta game"—Fezzik takes it a step further. He uses a popular and reliable tout, whom he calls Mr. J., as a barometer. The idea is that he tracks the suggested bets Mr. J. puts out to his thousands of customers and sees how those customers react. "If a big-name handicapper likes a side and the line does not move at all, I take the other side," says Fezzik. "When you have all these subscribers paying for information and they do not take it, that should tell you something about the public's opinion."
RJ Bell suggests approaching tournament betting with a contrarian point of view. As he explains, your average bettor tends to put money on favorites and marquee teams. This means that the Dukes of the world get loads of play during March Madness. "If you bet around the public teams, you'll see a lot of people getting eliminated while you have a shot at staying in the tournament," says Bell. "If, for example, you think Duke is the best team of the day, and they have a 20-percent chance of losing but your next-best team is off the radar and has a 22-percent chance of losing, you're better off picking the less likely team. If you win and Duke loses, then a big chunk of the field is gone. If you are in a contest, you are not only competing against the spread, but you're also competing against the other participants. That is very different from straight-ahead sports betting."
Additionally, tournaments can be used as tools to augment your standard sports betting. Cantor finalist Mike Greene explains that he created a no-lose situation for himself. "I hedged against the contest each week," he says, pointing out that he would see the sides that his opponent took and then mirror those wagers independent of the tournament. "You're getting the picks of professional handicappers, and if they win in the contest, at least you win your bets. If you don't win on the wagers, you most likely move up in the contest [because the other guy lost]."
And it doesn't hurt to have a sounding board of trusted friends who can offer feedback on your opinions. Bryan Leonard meets with a group of fellow handicappers every Tuesday. They sit around and hash out the coming week's games. Additionally, he had a partner, a very sharp professional gambler who'd rather not be named, with whom he worked on making picks. The only wrinkle arose when the partner was in Italy, carving up a casino there, and Internet trouble caused communication problems right before bets were to be placed.
Greene had no such advantage. "I felt like it was me against a lot of sharp minds," he says. However, Greene does acknowledge that lone-wolf anonymity gave him a bit of an advantage in at least one area: "I wasn't worried about what anyone thought of my picks. A lot of guys [with local reputations] concern themselves with what people will think of their
selections. They don't want to pick favorites or make square bets. I didn't care what anyone thought. If they want to think I'm a square, fine. Let them. If I think seven favorites will win, I will take them. I'm not worried about what people think of my picks."
He's not kidding. On the last card of the event, playing in the final, five favorites took up seven of his picks.
You must be logged in to post a comment.
Log In If You're Already Registered At Cigar Aficionado Online