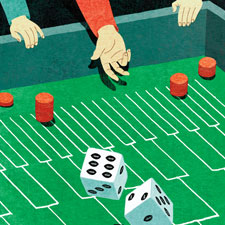 Illustration/James Steinberg
Betting the Brackets
Handicapping tournaments for sporting events are big attractions for veteran gamblers and newcomers alike
In a casual Italian restaurant just outside of Las Vegas, veteran sports handicapper Bryan Leonard considers a stromboli and looks less than thrilled. Glancing up at a flat-screen TV before checking the menu, he says, "It's desperation time. I'm 0 and 2; he's 2 and 0." Then, maybe feeling a need to tease out the pain a little more, Leonard adds, "His early pick was Houston and they kicked a field goal, with three minutes left, to win it."
The he that Leonard refers to is a successful, professional sports bettor by the name of Mike Greene. Each man has put up $5,000 to compete in Cantor Gaming's Football Showdown 2012, held at the M. Resort, situated south of the Las Vegas Strip. Combining elements of a heads-up poker tournament with that of traditional sports betting, the event this year was a magnet for the sharp and the savvy. The tournament begins with eight brackets; in each of those brackets, two gamblers go up against one another. Whoever picks the most winners continues playing against an increasingly slender field.
Already having bitten the dust are well-known sports bettor Steve Fezzik and handicapper Adam Meyer. The contest began with a field of 16, Cantor Gaming kicked in $10,000 to provide positive equity for all contenders, and Leonard and Greene have made it to the final two. Winner gets $67,500; runner-up receives $22,500. It's not exactly the set of steak knives that Alec Baldwin's character promises to the second-best salesman during his famously brutal monologue in Glengarry Glen Ross, but the money will be nice and the bragging rights will be just as sweet.
For Leonard, who's already been runner-up in three major handicapping contests, the pressure to win this one is acute. Plus, his handicapping business, footballwinners.com, through which he sells picks to gamblers, will surely get a boost of credibility if he aces the Cantor event. Unfortunately for him, with only five games remaining in this final bracket, Leonard needs a minor miracle to come out ahead. Though he just looks resigned on the outside, on the inside, I assume, he's a bag of nerves. "I still get stressed over these things," he acknowledges. "I've broken stuff out of frustration. I used to have a partner who punched holes in the walls. That's not good to do in front of your employees."
In terms of the game we are watching, Pittsburgh Steelers vs. Dallas Cowboys, Leonard has taken the under, betting that the score will total less than 44. It is not going well for him at all. When a Steelers player dips into the end zone, ball first, Leonard looks sick. He smiles tightly and says, "It's like walking through a bad neighborhood and knowing you will either be shot or stabbed. I just got shot."
The game goes into overtime and the Cowboys win, 27–24. The score totals 51, and Leonard goes to a disheartening 0 and 3. If there is a silver lining, it's that his opponent, Mike Greene, lost his bet as well, now standing at 2 and 1. Surmising his situation while we wait for the check, Leonard says, "I have to go 4 and 0 and Mike needs to go 2 and 2."
It's not the sort of statement that he's hoping for me to offer commentary on.
Sports-betting tournaments are not only for Vegas's most seasoned, highest rolling handicappers and are not relegated to the football season. March Madness, that great splash of NCAA Finals basketball games, comes with its own tournament. Known as Last Man Standing, put on by Station Casinos and as sensible a gamble as you're likely to find, it requires that you keep selecting winners throughout the run of basketball games. You pick one game per day, going against the spread; mess up once and you're out of the running. But whoever makes it to the end will receive a fabulous windfall. The entry fee is only $25—additionally, you get five entries for the price of four—and the payoff last year was $53,300 (the casino takes no commission; that sum accounts for the free entries that contestants received when they purchased four).
For casual gamblers, Last Man Standing might be as good as it gets in Vegas sports betting. "The average gambler loves to risk a little to win a lot," says RJ Bell, who runs the sports-betting newssite pregame.com. "And if you look at it in terms of economic theory, it makes a lot of sense. Plus you get to have daily action for a small amount of money. Usually, with that sort of arrangement, say, a typical parlay bet, you need to pay a high commission to the casino. But Station looks at it as a way of drumming up business, so all the entry fees go back into the prize pool, and you get a shot at winning decent money."
The Last Man Standing tournament has been going strong for nine years, and there is at least one good way to capitalize on its structure. Because the contest point spreads come out between 7 a.m. and 8 a.m. each morning—and remain unchanged throughout the day—you can use the casino's continually changing line for individual bets to gauge where the smart money is going. "There may be more information and you may get a good deal by waiting," says Chuck Esposito, director of race and sports book operations at Sunset Station. But there's a potential downside. "The point spread may not move at all and you begin to limit the number of games you have to choose from. Then what happens if you like Team A and the line moves against you?"
Of course you can take the other side of the bet. Or, even better, since you probably will have multiple entries, you can space your bets through the day, using certain entries for early bets, when there is less information available (in terms of how the teams might play as well as line movements) and use others for later in the day (when you have fewer games to choose from but stronger information).
You must be logged in to post a comment.
Log In If You're Already Registered At Cigar Aficionado Online