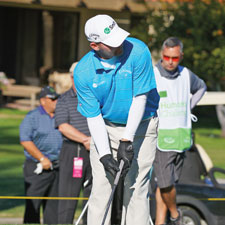 Wearing his trademark gloves, Gainey takes his first tee shot of the Humana Challenge in Palm Springs, California, at the start of the 2013 PGA Tour.
Breaking Big
Tommy "Two gloves" Gainey navigated the mini-tours and the Web.com tour before winning on the PGA Tour
(continued from page 2)
They were friends from the get-go. In 1997, while Gainey was working for A.O. Smith, Wilson told him he ought to give a shot at playing a mini- tour event in Columbia, South Carolina. The mini-tours are all about playing for your own money, hoping to at least win back your entry fee and nab some of your competitor's money. For Gainey, money had always been an issue, and putting up $750 to play in this TearDrop Tour event was out of the question. Wilson asked him how much he could afford to pay and Gainey said maybe $150. Wilson said he would put up the rest.
So in his first tournament as a professional, Tommy Gainey won, holding his nerve down the final holes, then sitting in the clubhouse as the leader lost his. The first place check was $15,000, a fortune to him, but somehow he didn't think it was his fortune. He thought most of it belonged to Wilson.
"I said Cliff, how much do I owe you," says Gainey. "He said, you know Tom, I don't want any of this money. He said tell you what, I believe you are special. Now when you think about that for a sec, it's special. When he says you're special, it could mean a lot of things. We had been pretty tight and I consider him sort of a second father type deal. I'm thinking—special—I was young at the time and sort of just let it go. But now when I look back at it, I think, Know what? He was right. He sees something in me that everyone else had seen but everybody else didn't make a move to try to help me get to that level, and he did. It was all about money and you had to have money to play."
"I can tell you one thing," says Wilson. "Tommy's swing don't look ugly when you are playing with him. People watching on TV might think it's ugly, but when you have to play against this guy, all you see is that it's darn effective."
That mini-tour victory didn't automatically put him on the road to PGA Tour success. He worked at A.O. Smith for a while longer, played the mini-tours, worked at Smith again, played gambling matches, moved furniture, took care of golf carts at a course where he could practice. He didn't have a coach, only his brother Allen serving as a knowing pair of eyes. That relationship stands today.
Then in 2005 Paul Graham dropped into his life, discovering Gainey quite by accident as he was signing up another player. Graham was getting back into the golf agent business after managing Hootie & the Blowfish; he still manages the group's charity tournament the day after the Masters.
"The first time we played together two weeks after sitting down and talking together, he shot 64 with two three putts," says Graham. "And it didn't even look like he shot 64. It was very natural, very easy."
Hootie's tournament, with a big celebrity component, was broadcast by the Golf Channel. "Through that I met a bunch of guys at the Golf Channel," says Graham. "My buddy there who ran "The Big Break," I called him up and said listen man, you need to get some guys out there who are players, not just some characters who are going to go out there and miss the cut all the time. He said who you got? I said I had this guy Tommy and he'll be at the Hootie tournament the day after the Masters, just check him out. He did, Tommy went down there for a rehearsal and that was it. "The Big Break" [in 2007 and again in 2009] really helped him. And the Golf Channel really enjoyed him as well. That sort of kick- started things for him, but my main goal was to get him on the big tour."
In 2007 Gainey went through all three stages of the PGA Tour qualifying school to gain his playing privileges for the 2008 season. It was a massive step in his life, and he stumbled more often than not. He got into 17 tournaments and only made the cut in six of them, at one point missing 13 straight cuts. He didn't expect to be a contender right off the bat, playing against the best players in the world who had a bag full of knowledge about the tour courses. But missing 13 cuts in a row started giving him dark thoughts.
"I'm starting to think maybe my game isn't good enough to be out here," says Gainey. "I'm starting to second-guess my game, my confidence is starting to go down. I am thinking all sorts of negative stuff. When you start doing that, you got to get away from it. I was smart enough to do that. Take a week off.
You must be logged in to post a comment.
Log In If You're Already Registered At Cigar Aficionado Online