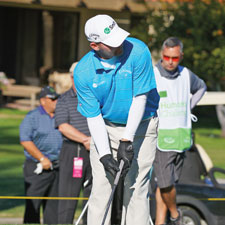 Wearing his trademark gloves, Gainey takes his first tee shot of the Humana Challenge in Palm Springs, California, at the start of the 2013 PGA Tour.
Breaking Big
Tommy "Two gloves" Gainey navigated the mini-tours and the Web.com tour before winning on the PGA Tour
(continued from page 1)
William McGirt, a PGA Tour player and a friend of Gainey's from the mini-tour days, was sort of dumbstruck when he first saw Gainey play.
"We were playing the Gateway Tour together down in Myrtle Beach and we got paired together a few times that summer," says McGirt. "I saw him swing it the first time and I thought who is this guy? Then he shoots like 62, 63 the first two rounds and I'm like whoa!
"Looks are definitely deceiving. When you first see him you don't think he could play dead in a John Wayne movie. Then he cleans you out for 500 bucks, and you say wow. The guy can flat out play golf. I tried to figure it out, but realized real quick there was no figuring it out. It's pure hand-eye coordination and a ton of talent."
Born in Darlington, South Carolina, Gainey was the youngest son of Tommy Sr., a textile worker, and wife Judy, who worked in a wood plant. His father, who wore two gloves himself, would take him and his brother Allen to Bishopville Country Club, where the boys would bat it around, trying to get in as much golf as they could, sharing a set of their father's clubs.
"My brother and I played marathon golf, as many holes as we could," says Gainey. "We just were beating it around as much as we could, and it worked out. My father introduced me to baseball and golf. It just seemed like I picked up golf kind of quick. A lot of my friends would say, wow, you just made seven birdies in eight holes but you made three doubles. The "wow" factor came in when I was so young.
"When I was playing around 15-16, my family, my friends said you got potential. It was about then I decided to focus on golf and leave baseball alone. I got better, but when I graduated high school no one recruited me, no colleges, no nothin'." Without any scholarship offers for golf, and with little money in the family coffers, Gainey kicked around playing money games and doing odd jobs before heading out to Central Carolina Technical College in 1999 where he earned a certificate in industrial maintenance. The PGA Tour was just something he watched on television, and occasionally dreamed about. He got a part-time job in the testing laboratory of the A.O. Smith Co. and then a full-time job on a water heater line, wrapping insulation around the heater barrels.
"I was making short of $8 an hour so back then it wasn't a lot of money. I was working full-time at A.O. Smith­—six days a week, I might add. No time to practice golf except after church on Sunday. During the week I'd work from 6 a.m. to 3:30 p.m. and when you get through you don't want to do anything but relax and do nothing."
But he did enough with his golf game to be a favored horse for bettors to ride. He and Thompson played against each other or as partners in matches that could be worth thousands. They weren't playing for their own money, but they wouldn't make any if they didn't win. And Gainey played in smaller money games for himself, like the one at the Bermuda Run golf course near Winston-Salem. It was there in 1996 he met Cliff Wilson, a businessman-farmer who played a game he could bet on. And on this Friday, when they were playing the regular "Captain's Choice" matches, Wilson was looking for a little more action.
"He was in there, bragging about anyone one in here want to gamble a little bit," says Gainey. "I was sitting there drinking a Coke and I stood up. 'I'm in.' " So off they went to play for a little money, nothing drastic, as Gainey says, and right off the bat he's in Wilson's pocket.  "I start birdie, birdie, eagle, par, birdie," says Gainey. "When we get back in, he said I owe you this much. I said, you know what, I don't want the money because it's all about proving to people about me. I just proved a point."
He proved himself big time to Wilson. "Here was this little skinny boy and he was driving the par 4s on this little course, putting for eagle half the time," says Wilson. "He made a pitch and putt out of these little nine-holers. He was breaking 60 half the time, it seemed. He was a birdie, eagle machine."
You must be logged in to post a comment.
Log In If You're Already Registered At Cigar Aficionado Online