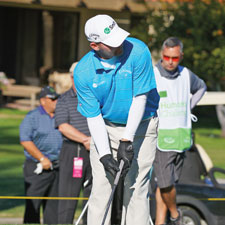 Wearing his trademark gloves, Gainey takes his first tee shot of the Humana Challenge in Palm Springs, California, at the start of the 2013 PGA Tour.
Breaking Big
Tommy "Two gloves" Gainey navigated the mini-tours and the Web.com tour before winning on the PGA Tour
(continued from page 1)
"Tommy has what I call the 'rainbow' scorecard," says Graham. "If you look at a scorecard on PGATOUR.com, it's a whole bunch of colors, blue for birdies, yellow for bogies, red for big numbers. That's sort of Tommy's scorecard. I don't worry about Tommy anymore, those rainbow cards. He's got more game than anyone out there on tour. Just physical game, going out to hit a shot, it's phenomenal."
McGirt backs up Graham's assertion, saying that from a pure ball-striking perspective, Gainey is right there with the best.
"The thing that has always impressed me, if you take a top 30 or 40 player in the world and Tommy, and you put them behind a wall and you can't see a thing and you can only hear contact, and you saw the ball flight and you didn't know which one was which, you would never be able to pick them apart," says McGirt. "He hits it as good as anybody out here. He's got that unorthodox swing, and that grip, but it works for him."
That swing, combined with some occasionally dead-on putting, has given Tommy Gainey membership into golf's most exclusive club, the PGA Tour. In the process of trying to prove to everyone else how much talent he has, he's also proven it to himself.
"When I first got out here, I was star struck because I was with all these guys I grew up watching on TV," says Gainey. "I'm as close to you as I am to them, on the practice range, in the locker room, in family dining. Tiger Woods, Phil Mickelson, Vijay Singh. I feel I am more comfortable in my own skin. My confidence is so much better than it was. Once you win out here, you prove a lot of people wrong. There were a lot of people who didn't think I could get it done. Once you win out here, I proved to myself that I can do a lot bigger things."
As Paul Graham says of his charge, "He's the best story in golf, and he will continue to be."
Jeff Williams is a contributing editor of Cigar Aficionado.
You must be logged in to post a comment.
Log In If You're Already Registered At Cigar Aficionado Online