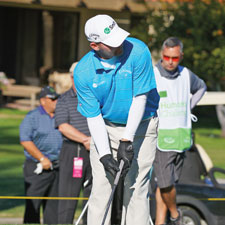 Wearing his trademark gloves, Gainey takes his first tee shot of the Humana Challenge in Palm Springs, California, at the start of the 2013 PGA Tour.
Breaking Big
Tommy "Two gloves" Gainey navigated the mini-tours and the Web.com tour before winning on the PGA Tour
When Tommy Gainey won the 2012 McGladrey Classic, there was a certain reserve to his celebration, a certain calm and a certain confidence. Gainey's route to victory on the PGA Tour had been circuitous, bumpy and with a few turns that seemed to lead to dead end roads. Yet Gainey knew something that not many folks did. Tommy "Two Gloves" Gainey knew he was a winner and on that Sunday last October, he proved it.
With a home-built swing that resembles a landscaper digging a posthole, with gloves on both his hands and a constant crop of stubble on his face, Gainey doesn't look the part of the well-honed PGA Tour pro. He didn't play college golf like them, didn't play the junior tours like them, didn't have any formal coaching like them, and never had much money in his pocket.
But he had a game that was all his own, dug out of the dirt more than 20 years ago at the Bishopville Country Club, a municipal course in South Carolina where his dad, the original Tommy Gainey, played golf. Through the hard life of the mini-tours, the pressure-filled money matches at Carolina country clubs, two appearances on Golf Channel's "The Big Break," and the need to work a real job wrapping insulation around water heaters at A.O. Smith Co., the ungainly Gainey found his vectors to the PGA Tour. And coming as no surprise to him, he found himself kissing a trophy at the ripe age of 37.
"Now I'm considered a winner," said Gainey as he sat casually but confidently on a leather sofa at the LaQuinta Resort in California, where he was playing in the Humana Challenge this January. "On the PGA Tour, in my opinion, you have winners, then you have players. To earn the respect of the rest of the players, you have to win. I believe now that I'm not just the guy who wears two gloves out there. I'm not a carnival guy, some guy you see in a parade. I'm not a joke. There might be some people who said this guy is a joke, like he's in a circus, he's got two gloves, he's got an ugly swing. But you know what, he is a good guy. He's won a golf tournament, so he deserves it, deserves the respect."
That, it seems, is what Gainey has always wanted, the respect that comes with winning, and winning at the highest level. The final round 60 at Sea Island Resort in Georgia that gave him a come-from-behind victory in the McGladrey certainly caught as much attention as his unorthodox swing and the gloves on each hand.
One of the players he passed during that spectacular last round was Davis Love, the tournament host. Love won the final tournament of the 2008 season at Disney, beating out Gainey in what was Gainey's best finish during his rookie year on tour. Love knew little about Gainey until that Disney tournament, and while he doesn't know Gainey well, he knows a lot more now, having been beaten by him.
"Tommy is a golfer. He just plays golf," says Love. "I've been in the hunt with him twice. I've been real impressed. He's well-spoken. He's a lot like Boo [Weekly]. You think he's just a country guy, but he's not." That measure of respect is what Gainey has always wanted.
"Part of his fire is his desire to prove to everyone that he's a good player," says his agent Paul Graham, the former tour manager for Hootie & the Blowfish. "If you are going to make fun of my swing. I'm going to kick your ass. It's a general feeling of his, not something that's actually based on people making fun of him. For him, I don't necessarily think it's just about his swing. It's proving I am as good as you are even though I didn't get a college scholarship, didn't win a bunch of junior tournaments, didn't get out on tour until I was older."
That swing does grab your attention when you first see it, those hands with two black gloves wrapped around the shaft with something resembling a baseball grip.
"He never looked the part," says longtime friend and Web.com Tour player Kyle Thompson who remembers vividly first seeing Gainey's swing. "You say, Wow, what was that? You have to look at his swing a couple of times to get an understanding of it. His grip looks like he's riding a Harley Davidson."
You must be logged in to post a comment.
Log In If You're Already Registered At Cigar Aficionado Online