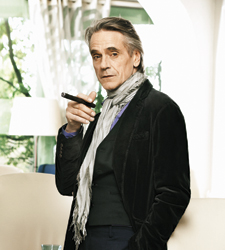 Photo/Jim Wright
Smoking Irons
An unapologetic lover of tobacco, the elegant English actor chooses roles that don't pigeonhole him
(continued from page 5)
As someone who has made the world his village, Irons also feels the responsibility that goes with it. He is a patron or supporter of several British theater companies—and, in 2012, appeared as the on-screen narrator of Trashed, a documentary about the growing crisis of solid-waste disposal in the world. At one point, wearing knee-high waders, he wandered through a trash dump on the coast of Lebanon that spilled into and polluted the Mediterranean.
"When people can't see these things, it's difficult to get them alarmed," he says. "That site in Lebanon was such a disgusting mound. And you don't get that as much in the film because it's also deeply photogenic. There's no way with film to transmit the smell. Or the horrible, chemical-green ooze that's bubbling up. Sadly, things will have to get a great deal worse before they get better. I hope we gave them a bit of hope with some of the ideas we offered in the film. I think people are turned off with doom-laden messages. I hope we presented some alternatives."
Irons is also a patron of the Prison Phoenix Trust, which offers meditation and yoga to inmates in British prisons: "They have volunteers go into prisons all over the country and do simple yoga and meditation workshops. It gives the prisoners some time out, calms their anger and gives them a sense of themselves. It's very good for them physically and mentally—and it's good exercise.
"I did a meditation weekend in Budapest with a guru this past year and started doing yoga. It's terribly good for my health, my posture, my head. I'd like to say I do it regularly, but I don't have a very routine life. I should like to find the hour at the end of the day to do it."
Talk to the people who know him and, inevitably, they mention how funny Irons can be: "He's freakin' hilarious in a dry, amazing way," Chandor says.
Yet his filmography is surprisingly short on comedy roles; Irons rarely—if ever—plays them. Asked about that, he shrugs and says, "I don't think my onscreen persona is funny. You would think of a lot of other people before you'd think of me. Although I'm always looking for something that makes me laugh. It's hard to find."
When it's pointed out that he could easily play one of Noel Coward's suavely self-absorbed comic protagonists, he shakes his head and smiles.
"I've always avoided Noel Coward," he says. "That whole area of the elegant Englishman is a cul-de-sac. At one point, I could have become David Niven, if I wanted to. I don't think that would be a good career for me. I want to try to be more unexpected."
Married to actress Sinead Cusack since 1978, Irons has two grown sons, one of whom, Max, is making his own way as an actor. Irons is a proud father who made sure his son was aware of just what a challenging career it could be.
"We told him, 'You've been brought up by two parents who have had successful careers as actors but it's a tough life,' " Irons recalls. "But I've seen him work and I thought, 'He knows how to get to that other place.' He seems to be doing all right.
"But a career is a long thing. I just hope they never learn that I'd do this for nothing."
You must be logged in to post a comment.
Log In If You're Already Registered At Cigar Aficionado Online