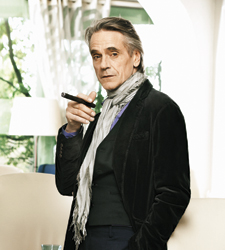 Photo/Jim Wright
Smoking Irons
An unapologetic lover of tobacco, the elegant English actor chooses roles that don't pigeonhole him
(continued from page 4)
Irons has continued to work steadily in film and theater, making a point of choosing a variety of roles—from the powerful CEO in the Oscar-nominated 2011 financial drama, Margin Call, to a powerless elderly writer whose best work has been stolen in 2012's The Words, to the reclusive "caster" in the upcoming Beautiful Creatures. Most recently, he's made a film for Danish director Bille August, Night Train to Lisbon, and a full production of Shakespeare's Henry IV, Parts 1 and 2, for the BBC, both also due out this year.
"I try not to put my footsteps in the same place in the snow," Irons says. "The problem with having a body of work is that people say, 'Oh, that's a Jeremy Irons role.' But you just want to do something different because you're an actor.
"I remember I once met (German filmmaker) Werner Herzog in Sydney at a festival. I'd just made this film called Moonlighting, playing a Polish workman. And when he met me, Herzog said, 'You can't be Jeremy Irons. Jeremy Irons is Polish.' That's great—that's what you're looking for as an actor."
Working with Irons, Cooper recalls, was "the best. I'm a massive fan. I was just hoping I would be up to the challenge. But he has such friendly eyes and such a nice energy. He's a very lighthearted guy—and a ferocious actor. He comes prepared and he's willing to do it until he gets it right. Right from the get-go, we looked at each other and knew it would be OK. I've always loved his elegance, even while being utterly masculine. That's something rare."
Ed Harris, who directed Irons as a villainous rancher in Harris' 2008 film, Appaloosa, says, "There's a certain deliciousness that he can employ with words. He's got a restrained theatricality he uses to his best advantage."
Irons is known for his discipline and immersion in the character. Writer-director J.C. Chandor recalls that, while filming Margin Call, a low-budget independent film, he only had three days to film with Irons—and Irons took charge and made it work.
"There was one rehearsal for his biggest scene—24 pages of dialogue with 12 people in the scene—and everyone was scared," Chandor says. "Before we went in, I said to Jeremy, 'I want you to walk in as if you're this guy, this CEO, and whip them into shape.' He took that to heart—and he walked in, wearing sunglasses, a T-shirt and cargo shorts and, in the way only an actor can, he took charge of the room. And then he started to turn it on me. There was this whole great creative thing that happened."
Neil Jordan, who produces and writes "The Borgias," only directs two episodes out of each season: "Jeremy can be very painstaking with some of the other directors," Jordan says. "He values a vision in a director. He's an obsessive performer—I rely on him for that. He's obsessive about the rituals and the costumes and everything about this world. I rely on him to keep the story on track when I'm not there."
Harris recalls with a chuckle that, on Appaloosa, "We butted heads a few times. He can be pretty obstinate. I was playing the protagonist in the film and he accused me of directing the film in character."
Irons acknowledges that he can be a stickler and says that, early on, he sometimes let it get in his way: "I went through a period when I would spend all my energy trying to get it right. But there's a thin line between a perfectionist and a cunt. And I sometimes went past it."
You must be logged in to post a comment.
Log In If You're Already Registered At Cigar Aficionado Online