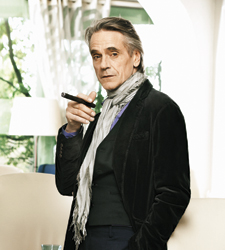 Photo/Jim Wright
Smoking Irons
An unapologetic lover of tobacco, the elegant English actor chooses roles that don't pigeonhole him
(continued from page 3)
After an upbringing in a village on the Isle of Wight "amongst people who were as solidly middle-class as I was," Irons chose acting as a career "because I basically wanted to be a gypsy," he says. He went to the Bristol Old Vic Theatre School, then began working on the London stage. Acting fulfilled a need he couldn't quite express as a boy.
"I didn't feel close to that community—I felt like an outsider, even there," he says. "When I was considering what to do, my instinct was to find a job that would keep me outside society. I was a third child and my brother and sister were away at school a lot. I don't like rules and I have a slight bit of trouble conforming.
"Still, I was middle-class enough that I wanted to have a family and a home. So the circus was out. I thought, 'Well, I'll try theater.' I had no experience but I answered an ad in the paper to be a dog's body at a theater in Canterbury. And I loved the routine, the people and their attitude. I'd only done one play at school because, while I always wanted to try out, dummy that I am, I thought you had to be asked. I didn't know there was a list in a room somewhere that you put your name on to audition. Once I did it, I loved it, even though I did it by the seat of my pants. In fact, I did poorly in tests that year because I'd been rehearsing when I should have been studying."
What he enjoyed, he says, is the sense of losing himself in his character when he was on stage: "We'd been rehearsing something for two days and I came out at lunch one day and thought, 'Where am I? Where have I been? Have I been somewhere else?' And I got hooked on that, on being someone else. You can do that with a character."
Irons spent a decade working in British theater and television, including a lengthy run in the original London cast of Godspell, before being launched in 1981 with "Brideshead Revisited" and The French Lieutenant's Woman. Suddenly he owned a famous face, a fact that took some getting used to.
"What that year did was make me very paranoid," Irons recalls. "I was recognizable, which was not something I was used to being. There was a year or two where I really didn't enjoy it. And then I turned a corner.
"I realized it turns the world into your village. I grew up in a village —and one of the huge pluses of that kind of life is that everybody knows you and trusts you and, hopefully, likes you. Granted, if everyone knows your business, that can be tough. But the world now is my village; people think they know me. The way people respond to me is different from country to country. In India, they recognize me for Die Hard With a Vengeance. You relax into it and you're fine. There are some great pluses: You can talk to anybody, meet anybody. I try to manage it in a way that I try not to put barriers up."
Actor Bradley Cooper, who worked with Irons in 2012's The Words, recalls, "I was struck by his kindness. He was very kind to my mother, who was thrilled to meet him. And with other people who came up to him, he wasn't deflective; he was receptive. And he was a good listener."
Irons hit his stride in the 1980s, acting in major studio movies like The Mission while building his reputation in independent and foreign films. He showed up in everything from an adaptation of Harold Pinter's Betrayal to one of Swann in Love, based on the novel by Marcel Proust, gave shattering performances as a philanderer and a dupe in Damage and M. Butterfly—and starred opposite Glenn Close in the original Broadway production of Tom Stoppard's The Real Thing. He won the New York Film Critics Circle's best-actor award in 1988 for David Cronenberg's creepy true-story-based Dead Ringers, in which he played a pair of drug-addicted twin gynecologists in a film that still gives some women nightmares.
Two years later, he captured an Oscar for playing Claus von Bulow in Reversal of Fortune, another fact-based film, in which he played a wealthy socialite accused of the attempted murder of his wife, who wound up in a persistent vegetative state from a drug overdose.
You must be logged in to post a comment.
Log In If You're Already Registered At Cigar Aficionado Online