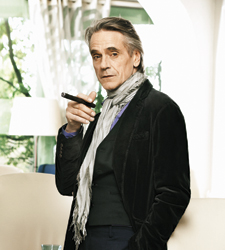 Photo/Jim Wright
Smoking Irons
An unapologetic lover of tobacco, the elegant English actor chooses roles that don't pigeonhole him
(continued from page 2)
Irons has enjoyed the opportunity to work in Budapest, using another BMW bike—a black-on-black 1150—to explore the countryside. The Hungarian studio where the show is shot is only two hours from London, but feels a world away.
"It's a beautiful city on the Danube that hasn't had too much of an economic resurgence since it became a democracy," Irons says. "It's still got this romantic, crumbling quality to it—unlike Prague, which has become much more Western and consumer-oriented. Before the wall came down, those cities were so romantic. Now I find as I travel around the way Western consumerism sort of sneaks in and makes everything the same, with all the chain stores. They don't have that in Budapest."
Though he continues to work regularly in film, Irons had no second thoughts about signing on for a TV series on an American pay-cable channel: "There's a lot better work going on in American cable than in many movies," he says. "Actors are attracted to good writing. And they're crossing over to TV—Glenn Close, Dustin Hoffman. They're attracted by the work, rather than the medium. In the old days, TV was frowned upon. But the business has changed. It's harder to make the kind of movies I like to do, the smaller independent films. I look at what's being made and I think it's not a bad thing to spend five months a year doing this. Plus television sets you out there in front of a big audience, which is important.
"Neil made a picture last spring, between Seasons 2 and 3. He came back and said, 'We're so fortunate. We've got great equipment, we've got the time we need.' On his film, he was constantly being chased about the budget, told to cut scenes, to cut budget. On 'The Borgias,' we have the luxury of enough time, great facilities and equipment and a great crew."
In a sense, "The Borgias" brings Irons full circle, to the medium that launched him. Though he had worked in television and London's West End in his 20s, it was Granada Television's miniseries adaptation of "Brideshead Revisited" that turned Irons into a star—in both the United Kingdom and the United States. His costar, Anthony Andrews, won awards, but Irons jump-started his career.
"I remember seeing him on TV—I'd heard of him but had never seen him before 'Brideshead,' " Jordan says "He was pretty marvelous in that."
Adds LaGravenese, "I was in college when that was on PBS. It was a seminal series, one of the first big British hits like that I'd seen. He made a huge impression on me; I'd never seen homosexuality done on TV. The character he played—I'd never seen that before. He just stood out."
The series hit American shores at almost the same time as his first major film role, opposite Meryl Streep in The French Lieutenant's Woman.
"I wasn't a film actor then. I worked regularly in the West End and I had my name above the title, but I don't think it brought anyone in," he says. "Doing a TV series was part of the process of getting known. There wasn't the kind of snobbishness about TV in England that there was in Hollywood then; you did film and TV and theater. It's a central business decision of your career."
He adds with a shrug, "A lot of people still don't know me. And there's a big difference between doing a show here and doing one on Broadway. When you're working on Broadway, your taxi driver always says, 'How's the show going?' Broadway is a central part of the cultural life in New York in a way that theater isn't in London. Over here, you have to be doing a TV series for the taxi driver to say that."
You must be logged in to post a comment.
Log In If You're Already Registered At Cigar Aficionado Online