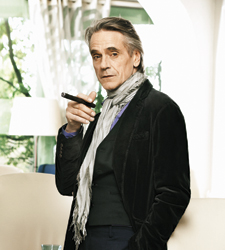 Photo/Jim Wright
Smoking Irons
An unapologetic lover of tobacco, the elegant English actor chooses roles that don't pigeonhole him
(continued from page 1)
With his luxuriously rumbling voice and elegant diction, and eyes that can shift from looking slightly haunted to deeply amused in a wink, Irons was the first choice of authors Margaret Stohl and Kami Garcia to embody the character of Macon Ravenwood, the mysterious shut-in with magical powers in the teen gothic tale, Beautiful Creatures.
"They wanted someone funny and intimidating and sophisticated— and of course he has that gorgeous voice," LaGravenese says. "He was perfect for the role. And he's so incredibly smart. We worked together on the script on his scenes. He's such a great professional, with so much experience. He's wonderful at working on plot and story, and he's got a great sense of humor."
Irons, as the powerful but reclusive father in a story about romance between a young witch and a human teen, provided a kind of anchor for the film, LaGravenese says.
"He made the character more human—that was one of the things he helped me discover, that this was more about the humans and how much stronger we are than we think," the writer-director says. "Jeremy made that character really human. And he found a humor that I hadn't expected."
"I had a lot of fun on that," Irons says. "I got on well with the young American actors. And Eileen Atkins and Emma Thompson are in it. I really don't understand that particular medium; I've never seen any of the Twilight films. But I think it will be rather good. And it was a great shoot in New Orleans, a city I love."
Irons spends five months a year in Budapest, filming "The Borgias," the Emmy-winning series about the conniving contemporaries of Machiavelli and the de' Medicis in late 15th-century Rome. Lust, treachery, murder and worse—it's all in a day's work for what the series' tagline referred to as "the original crime family." Irons plays Rodrigo Borgia, a cardinal who, in the series' first episode, manipulated the vote after the death of Pope Innocent VIII to get himself elected to the papacy.
Invested as Pope Alexander VI, he is remembered in history as a libertine who used his position to enrich himself and his family. But, as Irons points out, most of the history written about Alexander was shaped by enemies who survived him, particularly Giuliano della Rovere, who became Pope Julius II after Alexander's death.
"If you just read what's written about him, he was loved but mostly hated, feared and despised," Irons says. "But he also had great passion and organizing ability. He was an extraordinarily inconsistent man. That's what I love about doing this role in a series—the fact that, over the course of 10 hours in a season, you can really play the inconsistencies of the character in a way that you can't in a film. He was a man of God, who lived in a world where he was involved in assassinations and poisoning. How do you align those things? It's really interesting.
"I see modern equivalents but they don't slap you in the face so hard. Look at George W. Bush; a Christian man, a nice man. And in the name of his government, thousands of civilians died in Iraq. But they keep that at arm's length. Alexander did the same thing. The people who wrote about him in history books vilified his name. The impression you get from those books—I didn't want to play that. Despite everything I read, I didn't want to play him as an out and out rogue. I wanted to play what might have been."
"I always thought he was perfect casting for Rodrigo—in everything except physique," says writer-director Neil Jordan, who created "The Borgias" after trying for years to tell the story in a single film. "The real Rodrigo looks like someone who was bloated by overconsumption. I don't want to cast for physicality.
"Jeremy has approached this as an exploration of power and religion, and how you can't exercise power without moral justification. He's very interested in issues of belief. The interesting thing about Rodrigo is that, no matter how monstrous he became, he was always a believer. He was ordering murders but he believed he had direct access to God. Jeremy is very interested in exploring those contradictions. He's got the attitude of an 18th-century anarchist."
You must be logged in to post a comment.
Log In If You're Already Registered At Cigar Aficionado Online