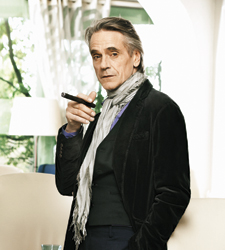 Photo/Jim Wright
Smoking Irons
An unapologetic lover of tobacco, the elegant English actor chooses roles that don't pigeonhole him
Jeremy Irons likes to smoke. And he'd rather not have to apologize for it. "When I'm asked what superpower I wish I had, I used to say it would be to fly­—but now I think it would be to be able to smoke invisibly," Irons says, relaxing in a booth near the rear of The Wolseley, a former car showroom and bank turned Grand European Café on London's Piccadilly Street across the street from the Ritz. "If you're going to have a cigar over dinner, you've got to be at home to do it. I think smokers are really singled out in a way that seems disproportionate. But smokers have no lobby."
It's just less than an hour until noon on this January morning, as Irons enters the restaurant, striding to his table in a dun-colored sweater, brown corduroy pants with dark brown Wellington boots pulled up to his knees, and a pair of antique leather saddlebags slung over one shoulder, which he brings to the table after checking his coat. They are, he notes, genuine U.S. Army Cavalry saddlebags from the Old West. He's just ridden in from his home in Oxford—on his motorcycle, a 23-year-old BMW1000RT—on this brisk 40-degree day.
So he orders a bowl of porridge (oatmeal to us Yanks) with berries and a cappuccino and reclines with a catlike ease in the booth. He's a couple days away from a trip to Los Angeles, where he will be a presenter at the 2013 Golden Globes—and then he'll quickly be pulled into the publicity machine to promote the February release of his next movie, Beautiful Creatures, a supernatural tale in the Twilight vein in which he plays a family patriarch who is a "caster" ("A sort of male witch," he allows). That will be followed by the March return of the third season of "The Borgias," his popular and juicy Showtime series, in which he plays the conflicted Rodrigo Borgia, head of a powerful family who manipulated and murdered his way into being elected Pope Alexander VI.
The immediate subject, however, is cigars. His favorites? "Romeo y Julieta," he says, adding, "being an actor, I was probably attracted to that name. And I like some of the Davidoffs; they're sweet and smooth. I've got a box (humidor) in the castle (Kilcoe Castle in County Cork, Ireland, which he bought and refurbished), one at the house in Oxford and one for when I travel.
"My curse is that I'm a cigarette smoker. I make my own cigarettes. So I have a tendency to inhale when I smoke a cigar. I have to keep reminding myself not to."
A smoker since his teens, Irons got serious about cigars while making the British miniseries that put him on the map: the 1981 adaptation of Evelyn Waugh's "Brideshead Revisited."
"I was in my early 30s when I did 'Brideshead' and the director, Michael Lindsay-Hogg, was a great cigar smoker," Irons says. "In those days, you could smoke on the set. I would join him in a long cigar that would last most of the day. These days, I smoke a cigar maybe once a month. If I'm dining with friends who smoke and I know there's some good talk in store, then I'll light a cigar.
"I took a great trip to Havana, where I came away with some wonderful cigars—and a box signed by Fidel Castro. I still have the box, but not the cigars. To me, cigar smoking is about the leisure. There's this life we have where we're all tearing about all the time. But if you sit down and smoke a good cigar, you're saying, 'I have time for this.' "
Irons doesn't make excuses for his cigarette consumption because, he notes, he takes as much care in their construction, using licorice-flavored cigarette papers and special tobacco, as in choosing his cigars. His craftsmanship is obvious, says Richard LaGravenese, who directed Irons in Beautiful Creatures.
"And he had the best tobacco I ever smelled," LaGravenese says. "I started rolling them when I was very young," Irons says. "I can't smoke conventional cigarettes. I will occasionally; if I run out of tobacco, I might. But I find them too dry, too quick, too harsh. In America, the licorice papers I like are illegal (outlawed in the U.S. in 2009), but I say, anything to make it taste nicer. They're still legal here; I believe Johnny Depp smokes licorice papers."
You must be logged in to post a comment.
Log In If You're Already Registered At Cigar Aficionado Online