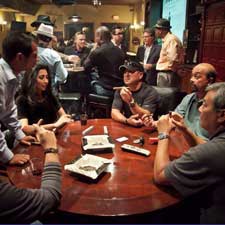 Professional networking events, such as this one held at the Tobacco Barn in Southern California, are becoming more prevalent.
Cigars and Networking—A Natural Pairing
Mike Scott
Posted: March 5, 2013
(continued from page 2)
There is professional cigar networking groups all around the country, with the numbers seemingly increasing. A Google search turns up such results as the Boston Professionals Cigar & Networking Group, Speakeasy, a "secret society" of Atlanta business executives that gather over cigars and spirits, and Networking Over Cigars and Spirits, a LinkedIn group of executives and business professionals in the Midwest.
It is the informality that attracts many to the concept. But it also allows a networking event to become more of an actual event – something that will help encourage more active participants. That is particularly true in states that have enacted smoking bans in most or all public restaurants.
"Not everyone will want to attend a cigar business networking event but those who do are excited about it and are really looking forward to it," Asker said. "It's easier to talk business with people you have shared interests in and, from the feedback we received, we'll definitely plan future cigar networking events."
Comments
1 comment(s)
Garth Bugenhagen — Kaukauna, WI, 54130, — March 18, 2013 2:10pm ET
---
You must be logged in to post a comment.
Log In If You're Already Registered At Cigar Aficionado Online