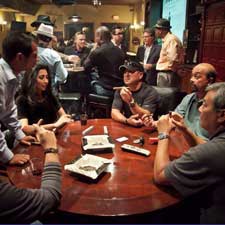 Professional networking events, such as this one held at the Tobacco Barn in Southern California, are becoming more prevalent.
Cigars and Networking—A Natural Pairing
Mike Scott
Posted: March 5, 2013
(continued from page 1)
"We still see many of our members being people who work long hours whether they own their own business or are in management or sales," Asker said. "Traditional marketing events where you have food and drinks at a restaurant don't generate much enthusiasm so we wanted to meet the needs of our members and offer something different."
The Auburn Hills Chamber's first Cigars and Conversation event drew more than 50 people, many of who were non-members, Aster said. It was held at a restaurant that offered an outdoor, heated covered area which would allow for smokers given that Michigan does not allow smoking in public restaurants.
"Some of the comments we received were that's it so great to have an event that people wanted to come to," Asker said. She was also surprised by the number of women who attended and participated in the Cigars and Conversation networking event. It served as a motivational event for existing members while also helping to recruit new members, she added.
Dade started the Cigar Night Business Mixer Group in February 2010 and two more chapters have already been started in neighboring communities in southern California. He has even received calls from people as far away as New York City for advice on how to start similar groups.
A professional working in financial services, Dade has found that cigar business networking events draw people from all business backgrounds. The first group of eight professionals he brought together included an insurance salesman, a local paramedic, a photographer and a wine and spirits distributor.
"The traditional networking events we have all been to are more like speed dating. With cigar smoking you have instant camaraderie," Dade said. "You may talk cigars, spirits and sports for the first 30-45 minutes and before you know it there is a relationship that will often lead to further conversations.
"Eventually you may even get around to talking business," Dade said with a laugh.
The Cigar Night Business Mixer Group holds its events at a number of local cigar stores as a way to support the brick-and-mortar, locally owned businesses, Dade said. The arrangement works well for all parties, including restaurants that offer patio smoking areas in the state California, where indoor smoking in public areas also is banned by state law.
Dade largely promotes his group through social media sites, including Facebook, LinkedIn and MeetUp.
"We focus on quality versus quantity in terms of the events we have," Dade said. "It has been a self-limiting process, and we continue to grow. We welcome people to bring plenty of business cards and feel free to invite friends and business associates because it is a comfortable and casual atmosphere," Dade said.
Comments
1 comment(s)
Garth Bugenhagen — Kaukauna, WI, 54130, — March 18, 2013 2:10pm ET
---
You must be logged in to post a comment.
Log In If You're Already Registered At Cigar Aficionado Online