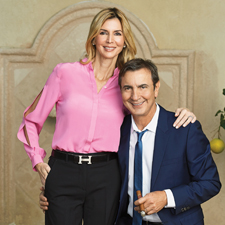 Ines Lorenzo-Gomez and Litto Gomez have become cigar-industry mainstays with their popular (and now powerful) La Flor Dominicana brand.
A Conversation with Litto and Ines of La Flor Dominicana
Cigar Aficionado Talks to the Power Couple Behind One of the World's Top Boutique Cigar Brands
(continued from page 4)
Q: It's a big trust issue, trusting someone to make your blend?
Litto: Absolutely. Our supervisor is going to the factory almost every week.
Q: Can you tell the difference between one rolled in La Romana and one rolled in Tamboril?
Litto: No. They taste the same, they look the same. But they're not on the market yet. We haven't shipped them yet. We've been graduating these rollers two by two. A month ago the first couple started rolling cigars for the first time with tobacco from La Flor Dominicana.
Q: But people can buy an Air Bender there?
Litto: Produced in Tamboril. All our lines are in the shop.
Q: Let's talk about the expansion of your factory in Tamboril. You showed me the photos of how you're building more space—did you know about that Ines?
Ines: I had to sign the documents. (Laughs)
Litto: We had to build a warehouse to do fermentation, but then we had no parking lot, and no more space. But as we bought more land at the farm it became very small, as every other department in the factory all works to supply the rollers. As the rolling room gets fuller, all these departments have become very small, and now we have to relocate the fermentation room and rearrange all the departments.
Q: Are you going to add rollers?
Litto: Every year we add rollers, and it's going to be no different in 2013. We continue to add rollers, and we need more space to supply the rolling room.
Q: So if you're close to 4 million cigars now, looking down the road, how big can this thing get while you still can maintain the control over what you have?
Litto: If we are in control, it's OK. The minute we are not in control, we will stop the growth. Eventually on the production side, I'm going to be getting more help. Now my son Tony is moving in January down to the factory to help me on the production side, and later on little Litto will come on and in a few years be involved, hopefully in the production side too. Looking down the road, it all depends on the quality of La Flor Dominicana not being compromised. The more help we have with the family, it will be better for the growth of the company.
Q: Tony is how old?
Litto: He's 25.
Q: And Litto?
Ines: Twelve. And Valentina [their daughter] is five.
Q: New blood coming in, new ideas.
Ines: You should see little Litto's ideas. His ideas are brilliant. How expensive? And can we do them?
Litto: That's the younger generation. As we get older, every year there is an older person not smoking or passing away. At the same time, there's a whole bunch of young guys who turn 18. There's a new generation. They're old enough to smoke cigars, but they view life in a new way. As we grow older, we may not appeal to this younger generation anymore. The younger blood will be communicating with this younger generation of smokers. I remember going to an event, and a guy comes with his son. And he introduced himself and said, "I drove an hour and a half to meet you. I just want you to know, for the last 15 years of my life, I've smoked one of your cigars every day." Just think about that.
Q: That must have made you feel like a million bucks.
Litto: This is the guy we work for. He knows that cigar better than I do. That thought stuck with me. It's a huge responsibility that we have with our consumers. We're part of very happy moments of people.
Ines: Celebrations.
Litto: Celebrations. And I'll be proud for the rest of my life. That's what we do. That's the most rewarding part of our work.
Comments
2 comment(s)
Patrick Morales — Covina, California, United States, — March 21, 2013 9:57am ET
---
Edward Silva — March 22, 2013 6:36pm ET
---
You must be logged in to post a comment.
Log In If You're Already Registered At Cigar Aficionado Online