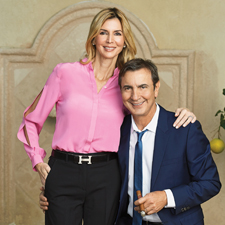 Ines Lorenzo-Gomez and Litto Gomez have become cigar-industry mainstays with their popular (and now powerful) La Flor Dominicana brand.
A Conversation with Litto and Ines of La Flor Dominicana
Cigar Aficionado Talks to the Power Couple Behind One of the World's Top Boutique Cigar Brands
(continued from page 3)
Q: Does every one of your cigars have at least some farm tobacco?
Litto: Yes. Totally.
Q: And are some of your cigars made entirely from farm tobacco?
Litto: The LG Diez and the Small Batch too.
Q: And that's a big change from the last interview—back then you hadn't used a single leaf. That was a long-term investment. How many years did it take?
Litto: Two years for the secos, the lighter leaves.
Q: What's your house style? If I said to you what makes a La Flor Dominicana La Flor Dominicana.
Litto: Tons of taste and consistency. And quality manufacturing.
Q: What got you into making the stronger cigars?
Litto: My own palate was changing. We don't make cigars for market trends. The cigars that come out of the factory reflect my personal taste.
Q: Have you taken stuff out of your portfolio?
Litto: The 2000 Series [which is wrapped in Cameroon].
Ines: We still make it, we don't advertise it.
Litto: Those retailers who want it, we still support it.
Q: So Cameroon went from being a third of your portfolio to being a small amount. Why is that?
Litto: I think Cameroon kind of faded a little bit, but the Sumatras and the Habanos are taking off. Nonetheless, trends change over the years: sizes, wrapper preferences. And it will continue to evolve.
Q: We've seen the size evolution with the rise of 60-ring gauges.
Litto: Four out of our five top sellers are 60-ring gauges.
Q: Let's talk about your partnership with José Seijas in La Romana, the La Flor Dominicana Experience. That small factory is rolling your La Flor Dominicana Air Benders for tourists.
Litto: Two sizes.
Comments
2 comment(s)
Patrick Morales — Covina, California, United States, — March 21, 2013 9:57am ET
---
Edward Silva — March 22, 2013 6:36pm ET
---
You must be logged in to post a comment.
Log In If You're Already Registered At Cigar Aficionado Online