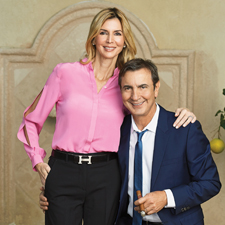 Ines Lorenzo-Gomez and Litto Gomez have become cigar-industry mainstays with their popular (and now powerful) La Flor Dominicana brand.
A Conversation with Litto and Ines of La Flor Dominicana
Cigar Aficionado Talks to the Power Couple Behind One of the World's Top Boutique Cigar Brands
(continued from page 2)
Q: How has it changed? What's your biggest seller now?
Litto: Double Ligero, which has Ecuador Sumatra wrapper. Our top-selling cigar is the Double Ligero 700. 
Ines: Then the Chisel. The DL 500.
Litto: The Digger is No. 5.
Q: Digger is No. 5?
Litto: When we first called retailers and said, "We have a new size called the Digger—it's 60 ring gauge by 8 1/2 inches." They would go, "What? Can you come again?" They said, "You guys are crazy." But it has taken on a life of its own.
Q: What's the story of the Digger?
Litto: It was this guy named Digger, from Old Town Fredricksburg [Virginia], he's a customer. A really Bohemian guy, he smoked nothing else but 700s. That's all he smoked. I got into a conversation with him. And we drank a lot of Scotch. A 15-minute visit turned into three hours, and I really hit it off with Digger. He asked me if I could do a bigger version of the DL 700. I told him I'd think about it. A few months later I told my factory supervisor to make a bigger 700. I put the cigars in a box and I sent it to him. It just so happened that the box came at a very special moment in his life, and it made him extremely happy. I smoked it, I loved it, and I knew I would put it in production—and I also knew that the moment I released that cigar it would be called Digger.
Q: Great name. But an 8 1/2 by 60—that wasn't really what the market was clamoring for. Ines, did you think this was a bad idea?
Ines: I said, "Who is the guy? What do you mean?"
Q: Does this happen a lot? Does Litto do things without telling you?
Ines: All the time.
Litto: How about when we bought the farm? I said "Ines, what do you think, should we buy a farm?" She said, "That's a really bad idea." I said, "Ummm….we just bought one." (Laughs)
Q: Wait a minute—is that how it really happened? (Laughs)
Ines: One of our customers would call up and say did you get A, B and C yet? And I would say, "What? Let me check." And I would say, "Litto, do you find it fair I find this out through a retailer?" (Laughs) And then I say, "How much is that going to cost?" (Laughs)
Q: That's why your brand is Flower of the Dominican—you have to come back with flowers every time. Did you really buy the farm that way?
Ines: Yes. Now we have a farm. (Laughs)
Q: So you were a little doubtful?
Ines: It was a big investment for us, being the small company that we are, and we were even more so back then. We put a lot of our income into the farm and making it what it is today. It's a peace of mind, not to have the dependency on the tobacco suppliers. We still buy from other places, but we have a large inventory of our own tobacco. And we're involved in the whole process.
Litto: You've seen our infrastructure. For a small company, our infrastructure is huge. And that's part of the focus, just to have a very solid infrastructure. That guarantees our consistency. Consistency is key. And having that farm is the personality of the flavor of La Flor Dominicana. It's the profile. It comes from there.
Q: Best move you ever made?
Litto: It was the best move for our company.
Q: Ines?
Ines: (Laughs) We just bought more land. He says, "By the way, we just bought this." But I totally agree.
Comments
2 comment(s)
Patrick Morales — Covina, California, United States, — March 21, 2013 9:57am ET
---
Edward Silva — March 22, 2013 6:36pm ET
---
You must be logged in to post a comment.
Log In If You're Already Registered At Cigar Aficionado Online