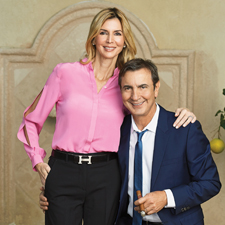 Ines Lorenzo-Gomez and Litto Gomez have become cigar-industry mainstays with their popular (and now powerful) La Flor Dominicana brand.
A Conversation with Litto and Ines of La Flor Dominicana
Cigar Aficionado Talks to the Power Couple Behind One of the World's Top Boutique Cigar Brands
(continued from page 1)
Q: So you had to wait. Patience and faith.
Ines: And we would take the opportunity, whenever we went to a city, and we would go store to store.
Q: Was it a warm reception back then? Did they want new cigars?
Litto: No. Not in '94. It was hard, with a lot of hopes. Just a lot of wishes. And a lot of effort. And then came 1995, and things started to get a lot better, easier, and '96 everybody wanted cigars. And a lot of the older guys in the industry are competitors, but they would bring us retailers during IPCPR, during RTDA.
Q: Why would a competitor want to help another?
Litto: It's one of the shortcomings of our industry—we just like each other too much. And that is true. That is true. Nowadays, even in decisions that are made for the future of our industry, we make decisions thinking of people in the industry. And we do like each other a lot. I say it's one of our shortcomings as a joke, but it is one of our strengths. When we had the fire in the aging room at the factory, back in '97, we lost 400,000 cigars. I flew the same day back to the Dominican. The next day, in the afternoon, a tobacco dealer shows up at the factory, and the guy says, "Edgar Cullman Jr. [then the president of General Cigar Co.] sent me to see you and offer anything we can offer you from our company." I had seen Edgar maybe three or four times, said hello to him at a Big Smoke or something.
Q: Wow.
Litto: I was kind of shy to call him, but I had to call him. And he said, "You know, we are first competitors in the market, but we can be friends and help each other." How could you not fall in love with an industry like that?
Q: Going back to the old days, in '99 you said you were making 2.5 million cigars a year. And you said this: "Today, we're still not even close to where we want to take the brand." My question to you now, is how far have you come in those 13 years?
Litto: We have come a long way. Maybe not in the numbers as much as the reputation and the prestige that the name brand La Flor Dominicana has gained over the last 13 years. I think the respect for our brand and for our company is way bigger than our production. We feel every year the recognition is bigger.
Ines: It's more of a sense that we belong in the industry. For many years, there was kind of an insecurity.
Q: Did you ever feel like it was a club that you were trying to get into?
Ines: I think so. Like you have to earn your place. It is a friendly industry, but it's an industry with a lot of tradition.
Q: How many cigars are you making now?
Litto: We are getting closer to 4 million La Flor Dominicana premium cigars.
Q: Is La Flor Dominicana still a boutique brand?
Litto: I love it. We see ourselves as a small house, and I want to keep it that way. We like the concept of a small, family company. The goal has always been the same: to build a great cigar brand. It was never about numbers. It's about building a company for future generations of our family. This is what we do, we're building a great name. Every effort, every minute of work is directed to that goal. If we can't sell more cigars this year, we don't care. If we don't have enough materials to make blends the right way, we won't make them. I remember two years ago, the first four months of the year we had no maduros.
Q: Because of a lack of broadleaf?
Litto: It didn't have the right color. It had the same taste, but it was a couple of notches down in the shade of color.
Q: Are maduros a big part of your business?
Litto: It's a huge part. But if the product is not right, we won't ship it. 
Q: Back in 2000, you said most of your cigars—more than half—had Connecticut shade wrappers. And maybe 30 percent was Cameroon.
Ines: Many years ago.
Comments
2 comment(s)
Patrick Morales — Covina, California, United States, — March 21, 2013 9:57am ET
---
Edward Silva — March 22, 2013 6:36pm ET
---
You must be logged in to post a comment.
Log In If You're Already Registered At Cigar Aficionado Online