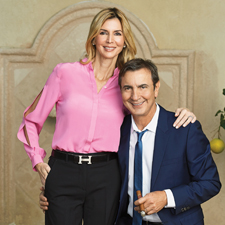 Ines Lorenzo-Gomez and Litto Gomez have become cigar-industry mainstays with their popular (and now powerful) La Flor Dominicana brand.
A Conversation with Litto and Ines of La Flor Dominicana
Cigar Aficionado Talks to the Power Couple Behind One of the World's Top Boutique Cigar Brands
The progress of the husband-and-wife team of Litto Gomez and Ines Lorenzo-Gomez through the cigar business has been a fascinating journey. Starting out as virtual newcomers more than 18 years ago, at the dawn of the cigar boom, they have taken their La Flor Dominicana brand from an unknown entity to one embraced by connoisseurs and critics alike. La Flor Dominicanas have placed in Cigar Aficionado's Top 25 consistently over the years, with a Coronado by La Flor named No. 2 cigar of 2006 and a La Flor Dominicana Cameroon Cabinet ranked number No. 12 in this very issue.
Once strictly mild smokes, La Flor Dominicanas now encompass a wide portfolio, and—thanks to a library of gutsy tobacco grown on a company farm in La Canela, Dominican Republic—the brand is today best known for its powerhouse versions. In December, the couple sat down with senior editor David Savona in Cigar Aficionado's New York City offices to reflect on their past and look to the future of the brand.
Savona: I was looking back at your previous interview, done in 1999 and published in 2000. Your company has changed quite a bit. Do you ever look back and see how far you've come?
Litto: I actually do look back, every now and then. It's very interesting how the company has evolved all of these years. Looking back it always makes you put your feet on the ground.
Q: For starters, at that time, almost all of your cigars were mild, and wrapped in Connecticut shade.
Ines: That was the biggest seller.
Litto: Making cigars in the Dominican Republic, being a start-up company, before the cigar boom, you pretty much didn't get access to any other tobacco than Connecticut shade, and Dominican filler and binder. That was the only tobacco available to a start-up company like ours, but it was also the Dominican blend. It was a very traditional blend.
Ines: And the No. 1 cigar back then was Macanudo.
Litto: It was what the cigar blenders at the time liked to blend. It was the old school of Dominican cigars. And obviously it was very well accepted by the consumers. That's what they liked to smoke.
Ines: We used to make the Premium line and the Special Reserve—that was it.
Q: What was the difference with the Special Reserve line?
Litto: It had a little more ligero in it.
Q: But on paper, the same thing—Dominican and Connecticut?
Litto: Yeah.
Q: Litto, you make the cigars and Ines you run distribution for the company?
Ines: We've always kind of divided the company like that. I still take care of distribution, and Litto handles the manufacturing part of it.


Q: Early on, were sales difficult?
Ines: It wasn't the easiest thing. But we went to the Cigar Aficionado breakfast in Orlando in 1995, back when the new magazine was unveiled at the breakfast before the show floor opened. We had received an 88 for one of our sizes. Eighty-eight was a huge rating back then.
Litto: For us.
Ines: And when we got back to the booth we had a line of retailers who wanted to order the size. 
Litto: Before that, the first sales were made on the telephone. We would call a retailer, go through the list, introduce ourselves…
Ines: And we would send them samples.
Litto: And we would do a follow-up call 10 days later. And from that, we would get eight "nos," and two "yeses."
Ines: That's how we would get the orders.
Comments
2 comment(s)
Patrick Morales — Covina, California, United States, — March 21, 2013 9:57am ET
---
Edward Silva — March 22, 2013 6:36pm ET
---
You must be logged in to post a comment.
Log In If You're Already Registered At Cigar Aficionado Online