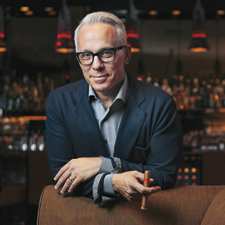 Chef Zakarian has very specific ideas about how a restaurant should be run, and he instructs his staff to not harass diners with unnecessary information.
The No-Guilt Life
Chef Geoffrey Zakarian uses lessons learned from Le Cirque to "Iron Chef," and tops them off with a cigar
(continued from page 4)
Asked what he'd eat if he were given a choice of a last meal, he laughs and says, "That's a morbid question. I'd have to go back and have someone cook for me who's not alive. I'd probably have my aunts cook me an Armenian dinner. Stuffed grape leaves, Armenian beans, barley soup. That's the appetizer. Anything with lamb. Definitely kibbeh. Turkish, Greek, Lebanese, even Israel—we all borrow from the same basket. It's the same 10 to 15 ingredients.
"In life, everything sags. Entropy—the idea that everything eventually falls apart—is the driving force of physics. But you try to go higher. We're all in the same boat—and that boat is going down. So enjoy the ride, savor the food and try to put your children on the next, best boat."
Contributing editor Marshall Fine writes about movies and entertainment on his website, www.hollywoodandfine.com.
Comments
2 comment(s)
danle ptitpede — March 14, 2013 3:10pm ET
---
Taylor Franklin — March 16, 2013 12:08am ET
---
You must be logged in to post a comment.
Log In If You're Already Registered At Cigar Aficionado Online