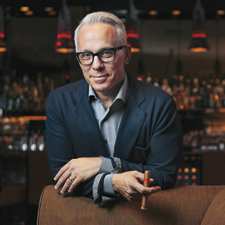 Chef Zakarian has very specific ideas about how a restaurant should be run, and he instructs his staff to not harass diners with unnecessary information.
The No-Guilt Life
Chef Geoffrey Zakarian uses lessons learned from Le Cirque to "Iron Chef," and tops them off with a cigar
(continued from page 3)
"You need to be a business person and have great food. That's a tough lesson to learn. And now it comes back to the economics degree. I went for the art—but now the business is something I have to focus on. They finally merged. That's always how you start: You're into the art. But an artist becomes commercial because you've got to sell your art and make a living. It's about earning a nice living."
And about finding time to kick back and smoke a cigar. During his run on "The Next Iron Chef," he'd finish each competition and "then I'd go out and fire up a cigar. Every challenge, we'd have a big cigar."
Zakarian smokes when he plays golf, though he rarely has time to play 18 holes: "Nine holes is more practical. I do a lot of smoking on the course. I love the ritual. I love the flavor. It works on so many levels. You can relax and have a good chat. There's something magical and liberating about it.
"I found my tastes by trial and error. I remember one Cohiba Especial, how stoned I was after my first one. It was wonderful, this absolutely perfect ash. I smoked it right down to the stub. I tend to stay in the small range. My everyday cigar is an Avo or a Hoyo de Monterrey. I like the Partagás Serie D No. 4. It's just the right size and strength. I'm rarely disappointed. It's a great cigar."
Despite smoking restrictions in New York City, Zakarian says, "We do find places to smoke. I have a terrace at my house. Or I'll walk through the city. I'll light up on the sidewalk and smoke as I walk to my next appointment. But it's best when I'm sitting down and chatting. I tend to choose places where I can do that.
"I don't smoke every day. I look at it as an extension of the life I enjoy leading. Is it bad for you? Anything in excess will be. But you can be a free human and choose to smoke once in a while. I take care of myself, I eat right and don't do anything to excess. Does it affect my palate? I don't think so. There are other things that will do that, too, whether it's living in the city or eating spicy food all the time. Everyday, I taste thousands of things. And I feel confident in my decisions. And really—you can't be a chain-cigar-smoker."
Zakarian has had restaurants succeed—and he's also had them fail. That's just part of the business: "The failure rate for restaurants is 90 percent or more. Chefs open restaurants and some of them don't work. But they still keep opening them. Even the best chefs have had that happen. Some books aren't best-sellers. Some marriages don't work out. In my world, batting .500 is failure. Batting .700 is only OK. At the end of the day, it's about hospitality."
Relaxation? Retirement? Those two words don't exist in Zakarian's vocabulary.
"Relaxation? I don't know that state," he says. "I'm most content when I'm outside with my kids, sharing something they've never seen before." (He has two daughters, 5 and 3.) "When I fall asleep in the middle of a massage, I guess I'm relaxed. But I love being busy. I'm never retiring—ever. I can't imagine a less interesting state of being."
Guilty pleasures? "I'm never guilty. Perhaps licorice—good licorice. And rosé wine. I've stopped being guilty. If I feel like eating something, I eat it."
Comments
2 comment(s)
danle ptitpede — March 14, 2013 3:10pm ET
---
Taylor Franklin — March 16, 2013 12:08am ET
---
You must be logged in to post a comment.
Log In If You're Already Registered At Cigar Aficionado Online