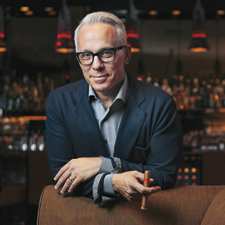 Chef Zakarian has very specific ideas about how a restaurant should be run, and he instructs his staff to not harass diners with unnecessary information.
The No-Guilt Life
Chef Geoffrey Zakarian uses lessons learned from Le Cirque to "Iron Chef," and tops them off with a cigar
(continued from page 2)
Zakarian was a latecomer to a career in food. The Worcester, Massachusetts, native went to college as an economics major and, after graduating from the University of Massachusetts, planned to get a master's degree in business administration. "But then I took a sabbatical," he recalls. "This friend and I had the idea to get a student loan and study in the south of France, to study industry there. That's where food found me. In France, it's a 3,000-year-old culture. I was entranced by the whole show of it. I came back from France and told my parents that I wanted to be a chef. They were unimpressed. I was relatively old when I started cooking—22, 23, which is relatively late."
Zakarian went to the Culinary Institute of America, then landed a job at Le Cirque after graduating in 1981, working for master restaurateur Sirio Maccioni. When he first applied for the job, he was told there were no openings—until he offered to work without pay. "I worked for nothing for six weeks to get in the door," Zakarian recalls. "I wasn't good but I had balls. I was good at copying things. If you showed me how to do something, I could do it. And working on the line in a restaurant, you're making the same dish 60 or 70 times a night. I finally started getting paid because someone got hurt and I replaced them.
"This was 1981, '82—there were maybe two dozen noteworthy restaurants in New York. I worked at Le Cirque for five years, which was the greatest restaurant in the world." The seeming epicenter of the New York restaurant world in the early 1980s, Le Cirque exposed Zakarian to a world of food he may have been too young to appreciate at the time. He cooked for presidents and worked with ingredients which, today, boggle his mind. "It was like jumping into the Land of Oz of the cooking world for chefs," Zakarian says, still amazed. "Think of the most expensive ingredients and we had it by the bucket, because the clientele was the crème de la crème. Sirio was buying the food in kilos, we were so busy. I worked with the best produce. I'd spend an afternoon cleaning $50,000 of truffles. Some people work their whole lives and never use as much as we did in a week. But he would buy the biggest truffles in Italy. I had no idea then what it cost. And working there, I learned what makes a restaurant tick."
Early on, Zakarian would work shifts where he was making the same dish over and over—but it never got boring because each one was unique. "You never make the same dish the same way, even the same night," he says. "Food is alive—and a chef can tell the difference. The butter is never the same temperature, the shallots are not the same strength, the taste will always be different. Each time you do it, it's slightly more refined and better. It's a very alive expression of life that shows you it's not a stationary thing."
In five years at Le Cirque, Zakarian rose from being a pastry sous chef to chef de cuisine, then moved on to become executive chef at the legendary 21 Club in 1987. The following year, he was hired as executive chef at 44, the restaurant at Manhattan's Royalton Hotel, which became a dining hot spot and gathering place for everyone from the elite of the publishing world to designer-superstar Calvin Klein.
Zakarian helped open several other restaurants before launching one of his own, Town, in 2001, followed by Country. His 2006 cookbook, Geoffrey Zakarian's Town/Country, was an editor's choice in the New York Times Book Review. Today, he owns and operates the Lambs Club (in the Chatwal Hotel), the National at the Benjamin Hotel (both in Manhattan), and Tudor House at Dream South Beach in Miami. He is consultant and executive chef at the Water Club at the Borgata in Atlantic City. Starting in 2014, he will oversee three restaurants on Norwegian Cruise Lines' ship, Breakaway: "I've never been on a cruise. I wanted to open a little shack by the water. Now I'm going to be on the water."
He learned his most valuable lesson about being a restaurateur while running 44: that the food was important, but the business was about more than just being able to cook. "Robert Isabell was the party planner at 44 when I was the chef," Zakarian recalled. "He would throw the biggest fashion parties. We had a huge argument in 1989 at the Royalton. I was so worried because my food was getting cold. And he said, 'No one gives a shit about the fucking food. It's about the party.' And it was very clear that there was a lot of truth to what he was saying. They were having a celebration of the moment. Focusing on the food would have interrupted that. Not to diminish the food—but it was about the timing. And the hospitality. He was the consummate host. When I stopped fighting him and started working with him, I learned a lot. I couldn't do the culinary things I wanted to, but that didn't matter."
So, while Zakarian still loves to cook and create in the kitchen, he is deeply focused on numerous other aspects of his business. He still puts on the apron when he's on TV and still works in his own kitchen but, as the saying goes, he's got bigger fish to fry.
"I'm in the kitchen every day, but I'm not back there sautéing onions," he says. "I'm more involved in making sure of the quality. My job is to be a positive force and to be sure the quality is maintained, to be as creative as I can. It's not just about creativity, though. I have to hire people, run a business. I have several hundred employees that I work with everyday. I talk about our sensibility, seasonality, where we're going. I create and taste.
"There are no set hours. I'm on the cell and Blackberry all the time. I'm open seven days a week, 24 hours a day. I'm always on call. They have to be able to get you. It's a difficult business. I love it—that's why I do it. I had no idea about that when I started. I thought it was all about being a chef. But there's a lot more you have to do to maintain a restaurant.
Comments
2 comment(s)
danle ptitpede — March 14, 2013 3:10pm ET
---
Taylor Franklin — March 16, 2013 12:08am ET
---
You must be logged in to post a comment.
Log In If You're Already Registered At Cigar Aficionado Online