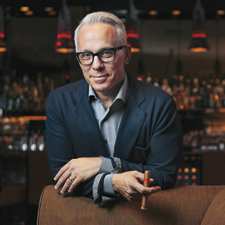 Chef Zakarian has very specific ideas about how a restaurant should be run, and he instructs his staff to not harass diners with unnecessary information.
The No-Guilt Life
Chef Geoffrey Zakarian uses lessons learned from Le Cirque to "Iron Chef," and tops them off with a cigar
(continued from page 1)
Zakarian is a ubiquitous presence on television, whether he's giving a cooking demonstration on ABC's "The Chew," sharing favorite dishes on Food Network's "The Best Thing I Ever Made," judging contests on Food Network's "Chopped" or battling other chefs—and the clock—on "Iron Chef America." He earned his Iron Chef jacket by winning "The Next Iron Chef" in 2011. "On TV, there's no room for someone where the main ingredient in their personality is subtlety," says Eytan Keller, director of both "Iron Chef America" and "The Next Iron Chef." "Success on TV or any other medium is based on character, personality, people who stand out from the crowd. Geoffrey does that at every turn. Watching him cook, there's a physicality, a purposefulness, a sense of mission in everything he does."
"Iron Chef America" is an hour-long cooking competition, in which a challenger-chef chooses one of the reigning Iron Chefs (which include such notables as Zakarian, Bobby Flay, Mario Batali and Masaharu Morimoto) to battle in "Kitchen Stadium," the television-studio kitchen where each face-off occurs. They both are given the same "secret ingredient" (which can be anything from peaches to mint to buffalo), which must be the focus of each dish of a five-course meal. Working in real time with only a sous chef to help, the two chefs prepare their meals, which are then judged by a celebrity panel—anyone from noted food critic Jeffrey Steingarten to fashion designer Isaac Mizrahi to former football star Boomer Esiason—to determine a winner. Zakarian has what he will only refer to as "a winning percentage" on the show. (He wouldn't give exact figures because the episodes have yet to air.)
"You're cooking five complete meals in an hour, with the cameras rolling," Zakarian says. "That's hard. It's absolutely about on-the-fly decision-making. You have to manage your time well. You have an hour—but it's less than an hour because you spend several minutes at the beginning running around, gathering ingredients and preparing. So you're actually cooking for about 25 minutes." What makes Zakarian a great competitor—and chef—is his willingness to take chances in "Kitchen Stadium." Onscreen, he's got laser-like focus, his short, silver hair offset by horn-rimmed glasses and dark, intense eyes.
"Geoffrey never does anything halfway," Keller says. "There's always an element of risk-taking when he cooks. He's not reckless, but he pushes the envelope. There's a safe way and a risky way to these challenges. Picking a technique that takes longer to execute can be intimidating. Geoffrey prides himself in figuring out how to make things happen in the given time. When you watch him cook, you can see how he calibrates when he's tasting. He shifts, he augments—and you see it in his eyes. What he and the other Iron Chefs are doing isn't chaos—but it is a process that's nonlinear. To the uneducated eye, it might translate as chaos. But at the end, you see this amazing work. Whether it's on TV or off-camera, you get a terrific sense of him being driven to be the best."
"You have to be good at committing to a dish, then translating what you want when you present it to the judges," Zakarian says. "You've got to be confident. Even if you're wrong, you've got to be confident with your error. Once you're done cooking, it's out of your hands. Your job is to persuade the judges that yours is the better dish. And I'm very persuasive." The key, Zakarian says, is helping the judges understand what you've done before they take the first bite. That can be challenging when the judge admits, "I've never eaten that before." Even then, Zakarian notes, there are ways to work the refs, as it were.
"You never make them feel stupid," he says. "You have to show that you value their opinion—or even their lack of knowledge about something. When you do that, it's hard for someone to come down on you. There's a psychology to that. Still, I've cooked amazing food that the judges just didn't get. Which means I failed to get them to judge it correctly." It's about persuasiveness—but also about putting on a show when you present to the judges: "I had to battle Morimoto as a guest and I got trounced," Zakarian recalls.  "The food was delicious but we didn't have the theatricality that he had. I learned then that it's not just about the food. You've also got to have theater.
"When the secret ingredient is something silly, like jelly beans, you use your imagination. The most straightforward items are the most stressful. It's hard, for example, to hide behind a rack of lamb. But there's nothing I can't cook."
Still, some of the secret ingredients can boggle the mind. The worst ingredient he faced? "Marshmallows and octopus—and you had to put that together. It's hard but you want that challenge. And then it's 'What the fuck? You're kidding me.' "
He chuckles, then adds, "It makes no sense, of course," referring to possible real-life applications for the skills required to be an Iron Chef. "It rarely happens that you have 10 people coming over for dinner and they don't tell you until an hour before." But if they did, Zakarian would be ready: "I feel very confident with the simplicity of cooking. It's like riding a bike to me. Cooking the food is really the easiest thing. Making food is a piece of cake, in the proverbial sense."
On "Chopped," in which chefs have 30 minutes to cook a meal for judges, using the ingredients from a "mystery" basket, Zakarian is tough but fair as a judge. And he finds that less-experienced chefs tend to fall into the same traps.
"The biggest mistake they make? Not enough salt and pepper," he says. "They don't season it enough. The second most common mistake is that they cook it improperly because they're unfamiliar with an ingredient, so they don't know how to treat it. But first and foremost, it's under-seasoning. They've got 20 minutes in and out. Some of them freeze. It's the pure ability to pull a rabbit out of a hat."
Comments
2 comment(s)
danle ptitpede — March 14, 2013 3:10pm ET
---
Taylor Franklin — March 16, 2013 12:08am ET
---
You must be logged in to post a comment.
Log In If You're Already Registered At Cigar Aficionado Online