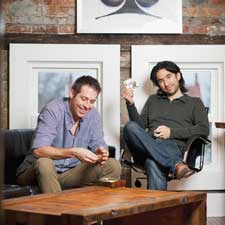 Photos/Jonathan Robert Willis
Devout, practicing Christians and former professional card counters, Ben Crawford (right) and Mark Treas (left) sit in Crawford's home recalling how they had been kicked out of many Las Vegas casinos.
Holy Rollers
A group of Christian card counters answer their calling at the casino
(continued from page 3)
Hours later, Treas had another run in, this one at Bellagio while trying to cash out $54,000 in chips that he could not account for because he didn't use his player's card when he won them. Security interrogated him for a while, and the casino refused to accept his chips, but Bellagio eventually allowed Treas to leave—with his chips, which the team could use for playing. Nevertheless, the ordeal caused him to miss his flight home and his blackjack career ended on a pair of sour notes. "That was it," he says. "I never went back to Las Vegas again."
Treas says he was burned out, backed off across the country and looking for something more rewarding than blackjack. He left the team to form a test-preparation company called Torch Prep. To him, cracking the code of the standardized test was a lot like cracking the code of blackjack. Plus he has the potential to make more money, help people and not need to spend time in casinos where, despite his rationalizations, he was never 100 percent comfortable. "It's not that blackjack is bad," says Treas. "But it's not good enough. It doesn't bring more awesomeness to the world. I rendered it unworthy for myself and it's not the life that I would want my son to live."
In 2010—while the team was in the midst of a nasty downswing, resulting in part from fatigue, possible theft and a kind of malaise that sets in when it becomes increasingly difficult to play—Ben Crawford had similar sentiments. He decided to call it a day as well. He completely turned over the reigns of management to his Bible camp buddy Colin Jones. Crawford went on to cofound a company called Epipheo Studios, which got its start by using stick-figure animation to simplify difficult concepts for companies that include Google and Microsoft.
He doesn't regret his years of playing blackjack and managing the team. But when I asked him to hit a local casino with me, just for the sake of the story, he refused. The thinking was that we would have to drive a fair distance and there was a chance that he'd get thrown out before he even began to play. Or, worse, he'd run bad and lose money in an effort to show off. What Crawford says he got out of blackjack "is an opportunity to be an entrepreneur. I know that I'll never go back and work for another person."
In the end, Jones was left to salvage a sinking ship. That the team members had agreed to cooperate for a documentary indicates how lackluster things had become. He, too, was worn down by the enterprise. He believed that his head was no longer in the game and felt uncomfortable being responsible for investors' money under those circumstances. The team was also mired in a two-year net losing streak—which, Jones acknowledges, had to do with issues other than bad luck. That didn't
exactly help things either. In 2011 he finally informed investors that they'd be taking a loss and disbanding the team. He now runs a website and training service called blackjackapprenticeship.com.
He looks back on the experience with more fondness than Treas and Crawford and gives the impression that he wouldn't mind getting back out there under the right circumstances. All and all, he says, it wasn't a bad deal. Beyond the opportunity to achieve something that few people can, Jones says, "I made around $700,000 over the eight year period. I started with only $2,000 and it was pretty slow for the first couple of years. The point isn't that we made so much money. It's more that we won it from casinos." He hesitates for a beat, then adds, "But the weird, bigger picture thing is that we think all money is God's money anyway."
Michael Kaplan is a Cigar Aficionado contributing editor.
You must be logged in to post a comment.
Log In If You're Already Registered At Cigar Aficionado Online