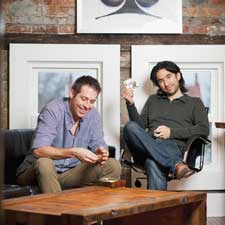 Photos/Jonathan Robert Willis
Devout, practicing Christians and former professional card counters, Ben Crawford (right) and Mark Treas (left) sit in Crawford's home recalling how they had been kicked out of many Las Vegas casinos.
Holy Rollers
A group of Christian card counters answer their calling at the casino
(continued from page 2)
"I was a leader at church and they hinted that if I wanted to move up, I had to stop playing blackjack because it didn't look good," Crawford remembers. "But why would I quit this to do that? This was all I ever wanted to do: reach young guys and counsel them on getting out of debt, on marriage and on children. I bought out people's credit card debt and let them pay me back at reasonable interest. I coached guys and helped them figure out what they were good at. I showed them how to think out of the box. I felt like I was doing more ministry on the team than I was doing in the church."
Besides, Crawford adds, "The whole [Christian] thing was ironic. People sometimes mistook us for a church. But we weren't a church. We were a blackjack team that had Christians on it. It was something we all had in common and it was fun. We sent out a team newsletter called The Sunday Morning Church Bulletin."
Entertaining as Crawford may have found it to be, once the gambling tables were hit hard by the team members, casino bosses were less than amused. And, unlike in the early days, Crawford did sweat the money, largely because it wasn't all his. He felt a responsibility to investors. Plus there were unanticipated incidents that needed to be dealt with, like, for instance, the time that a player misplaced $10,000. He eventually found the cash—inside his sofa—and returned it, but Crawford considered throwing him off the team for being so careless. In another instance a player's ouster from the team was influenced by a teammate claiming God had told him that this player was stealing money. Then there was the time that a player had $100,000 seized from him at the Canadian border due to a declaration snafu. All the praying in the world couldn't straighten out that mess. Crawford figures he spent 40 hours getting the money back and that the mistake cost the team $10,000.
As the players became increasingly known to casino security, they resorted to outré costumes. Crawford himself dressed up as an Indian businessman (complete with a turban and a suit), a "gangsta" and a goth. Mark Treas took it a step further. "In Mississippi, I started out super urban and got backed off everywhere," he says. "Then I shaved off my beard, changed into a jacket and tie, and returned as a different person on the same night. That bought me some more time. In Atlantic City, I played the persona of an aggressive Russian guy. I'd point at the pit boss and tell him to get me water."
Besides an hourly rate received for playing, the comps and gifts were fabulous. Treas sold wristwatches and gift cards on eBay. He once had a $2,000 shopping credit at the Hard Rock and called in a friend to spend the money for him—"I get my clothes from thrift shops, so it made no sense to me," says Treas—and he changed his name three times to keep the comps coming in.
Away from the tables, though, he didn't exactly live a Vegas lifestyle. One highlight for him is the night that he spent with a group of fellow Christians. After getting backed off at M Resort, he went to a friend's home for a night of spiritual songs and dinner. Casino hosts would ask what they could do for him and Treas, a vegetarian, would be happy with a salad. "In my world, I would play all night and go back to the hotel room," he says. "I don't watch television, so I would throw away the batteries in the remote. What Vegas sells is not what I am consuming. I am faithful to my wife, and Las Vegas is no place for a man who wants to be faithful to his wife."
But Treas and the others made do. To say they were on a mission from God would be an exaggeration, but it's easy to see how their Christian morals kept them focused on the job at hand as they took millions out of casinos across the United States. It ran to plan for six years, with investors making as much as 200 percent in a single year and players earning up to $200 per hour for their time at the tables. But the back-offs became increasingly aggressive. Players were no longer being asked to not play blackjack in the casino; they were actually getting 86ed. Sometimes local law authorities were called in. Other times, particularly on the Indian owned casinos, players were taken into backrooms and threatened.
Opportunities for good games began to thin.
The desired plan when heat came down was to gather your chips and get out of the casino as quickly as possible—praying or not praying—as you hustled for the exit. Treas met his match one night at Wynn Las Vegas. "Guys were chasing me, I got out of the Wynn and was running along  the parking lot's slippery cobble stones, sliding around on flip-flops, and hoping to make it to the Strip," he remembers. "Then a guy went monkey on my back. He flipped me over and started screaming at me. I called the police and then I called Bob Nersesian [a Las Vegas attorney who specializes in representing advantage players against casinos]."
Because Treas had previously been warned against returning to the Wynn, he was arrested and told by Nersesian that he had no case against the casino. Chips and cash were confiscated, and he wound up in a cell with the human remnants of a drug sting. "I was sober, super extroverted and hanging out with a bunch of heroin dealers and addicts," says Treas. "I figured I would encourage these guys and pray for them. At 5 or 6 a.m. I got released into downtown Vegas with a check instead of my chips and money. I had to figure out a way to get back to my room at the Venetian."
You must be logged in to post a comment.
Log In If You're Already Registered At Cigar Aficionado Online