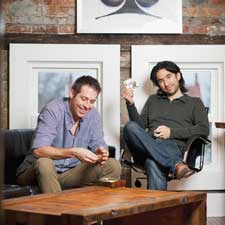 Photos/Jonathan Robert Willis
Devout, practicing Christians and former professional card counters, Ben Crawford (right) and Mark Treas (left) sit in Crawford's home recalling how they had been kicked out of many Las Vegas casinos.
Holy Rollers
A group of Christian card counters answer their calling at the casino
(continued from page 1)
Though wins came much more frequently than losses, early success did nothing to assuage guilt he felt about being in casinos and playing blackjack. Never mind that he made money at it, had fun and clearly operated at an advantage. "I was raised to believe that Christians didn't gamble," says Crawford. "I walked out of casinos, thinking the whole thing was a sin. But the situation forced me to think about what was wrong with it. Why was it a sin? It became more complicated. I couldn't see what was wrong with being in a casino and doing math in your head. I realized that it's no better to be selfish with your money in a shopping mall than in a casino."
Mentally freed, Crawford turned to card counting in earnest, playing as many as six nights per week, believing that he had discovered the holy grail of gambling. He enjoyed the prospect of winning, say, $1,000 in a single session and was psychologically strong enough to handle any inevitable losses. Still, though, as somebody who had formerly waited tables and always associated his income with a predetermined hourly wage, blackjack was a revelation. It infused him with an entrepreneurial zeal and showed him that "income could be divorced from the money that a boss is willing to pay you."
After teaching a Bible camp friend named Colin Jones how to count cards, Crawford had company. They briefly linked up with two other players and formed a small team, which didn't last due to internal conflicts. But word circulated among young, male churchgoers, and suddenly, Crawford and Jones were being approached for tips on how to play. "That's when the lightbulb went on that we could train a bunch of people, have a team and not need to play very much," says Jones who consulted with several church elders before convincing himself that blackjack was not in conflict with his religious leanings. "Our success came from making the team feel more like a family and less like a business."
Besides creating dedication, the idea was that forging a high degree of closeness would also foster honesty for those involved in an enterprise where you might be trusted with $100,000 in chips and cash. "We wanted it to be that if someone stole, they weren't just taking money from investors; they were taking money from their family," says Jones. "We didn't trust people because of lie detector tests. We trusted people because of who they were." No doubt, the bonds of Christianity helped to strengthen that trust.
In putting together their team that would eventually have 30 players, Jones and Crawford figured out a payment system based on a percentage of each player's expected value (that is, the money that each was expected to earn per hour). Finding church friends willing to play was as easy as splitting eights against a dealer's six.
One of the more enthusiastic recruits was Mark Treas, a big-boned, athletic-looking guy with a buzz cut of blond hair. Like the others, he needed to figure out whether or not attempting to beat casinos at blackjack counted as a sin. He justified it with the rationale that casinos are public places offering games to the public. So what's wrong with trying to beat the games? Once he decided to play, he spent 30 days "reverse engineering the system in a public library." Formerly a real estate flipper who partnered on properties by putting up sweat equity, Treas found himself out of work due to a back injury. So he took the time to understand how card counting worked and knew all the moves cold.
To test for the team, he flew from his home in northern Kentucky to where Crawford then lived in Seattle. After passing and being brought on, Treas told Crawford during their first encounter, "I will either own the team or run it." Crawford, who was soaking in a hot tub at the time, coolly responded, "Well, I guess we'll make you a manager."
Treas quickly proved his worth by winning $20,000 the first time he played a Seattle casino—and getting backed off for his trouble. That marked the beginning of a pattern. "Mark hit and ran," says Crawford. "He played more aggressively than any player I had ever seen. His goal was to get kicked out of every casino he could. And he did. He played a lot of hours and made pretty good money."
With Crawford and Jones managing the team—dealing with investors, deciding where players would play, tracking results and shipments of money around the United States and into Canada—things ran relatively smoothly. Players were encouraged to invest, but outside investors (including one who believed enough to put in $200,000) covered much of the bankroll
required to support a gang of card counters laying down as much as $6,000 on two hands.
If not for the team's logo—a silhouette of the Las Vegas skyline with a church jutting up out of the center—it almost would have been easy to forget that they were Christians first and card counters second. While the more progressive church deacons seemed to get a kick out of the Christ-loving lads who had a knack for bringing down the houses of Vegas, others were less impressed.
You must be logged in to post a comment.
Log In If You're Already Registered At Cigar Aficionado Online