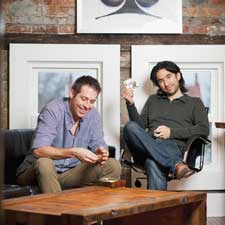 Photos/Jonathan Robert Willis
Devout, practicing Christians and former professional card counters, Ben Crawford (right) and Mark Treas (left) sit in Crawford's home recalling how they had been kicked out of many Las Vegas casinos.
Holy Rollers
A group of Christian card counters answer their calling at the casino
(continued from page 1)
He looks back on the experience with more fondness than Treas and Crawford and gives the impression that he wouldn't mind getting back out there under the right circumstances. All and all, he says, it wasn't a bad deal. Beyond the opportunity to achieve something that few people can, Jones says, "I made around $700,000 over the eight year period. I started with only $2,000 and it was pretty slow for the first couple of years. The point isn't that we made so much money. It's more that we won it from casinos." He hesitates for a beat, then adds, "But the weird, bigger picture thing is that we think all money is God's money anyway."
Michael Kaplan is a Cigar Aficionado contributing editor.
You must be logged in to post a comment.
Log In If You're Already Registered At Cigar Aficionado Online