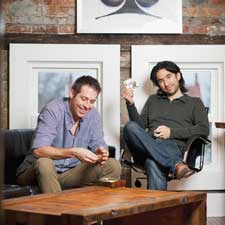 Photos/Jonathan Robert Willis
Devout, practicing Christians and former professional card counters, Ben Crawford (right) and Mark Treas (left) sit in Crawford's home recalling how they had been kicked out of many Las Vegas casinos.
Holy Rollers
A group of Christian card counters answer their calling at the casino
If you've spent much time in casinos, chances are that you have prayed for a fortuitous card or a roll of the dice or even for the cocktail waitress to bring you a much-needed scotch and soda. It's the kind of prayer that is nonspecific and doesn't really come with an expectation of working. As the poker player Gavin Smith once told me, "I'm figuring that God has better things to do."
Maybe so. But that didn't stop Christian card counter Dusty Wisniew during a roller-coastering session in a Louisiana casino. "On the first night of the trip I went from $50,000 to less than $4,000," he recalls.
Card counting, incidentally, is completely legal. It's a craft that involves tracking cards that have already been dealt in order to calculate a likely advantage on upcoming hands. "After every hand I won, I said, 'Thank you, Jesus.' I was grateful for each win and for the possibility to be able to sit there and rebuild my bankroll. I went up to $15,000, then down to $9,000 before going to bed." And the next day? "I got backed off"—meaning that he was asked to stop playing blackjack. Casinos are entitled to halt a player for any reason, even if that player has a legal, mathematical strategy for beating the game.
Wisniew was a member of one of the more unusual card-counting teams in the history of blackjack. Nicknamed the Church Team, this group was managed by Evangelical Christians, who traditionally view gambling as a sin. Many of the players, mostly in their 20s, were recruited through various religious organizations.
Investors in the team's bankroll consisted mostly of family and friends—predomintantly true believers. It is estimated that the team realized a post-expense profit of approximately $3.2 million over the course of its eight year history, before disbanding in 2011.
At the table, they were not your typical card counters. Team cofounder Ben Crawford, 24 when it started, recalls, "Sometimes, between hands, I would try to talk people out of gambling. I'd ask them what they were doing. I'd tell them that they must know they can't win. If there's anything we tried to do, we tried to bring reality to casinos."
And to take as much money as possible out of the casinos. "We would go to Vegas and play until sunrise," says Mark Treas, another Christian team member who had a reputation for working longer and harder than his peers. "I used to play standing up so I could bet at one table and count another one. It's high risk, but from the time I entered the casino I wanted to make more money than anyone else."
From geek to goth, these are some of the disguises Crawford used while playing the tables.
Early on, Ben Crawford seemed like a long shot for card-counting glory. He was raised in a strict Christian household and taught through religion that gambling was bad. Sitting near a humidor full of cigars in the well-appointed home office that he's carved into the top floor of his house in northern Kentucky, Crawford explains that he fell into playing after reading a book on blackjack. He hoped to find a hobby that he could make a little bit of money on. At the time, he, his wife and his wife's daughter existed on a budget of $200 per week. Crawford waited tables in a restaurant, and he took $800 of his hard-earned money to a casino near their home in Washington State. "I lost the first $800 and then used another $800 that we had in savings to try it again."
What did his wife have to say? "My wife didn't care. She wasn't attached to money. But I kept on winning and winning."
Inadvertently, maybe because of his Christian beliefs and a comfort in the fact that God would look out for him, Crawford embraced the kind of gambling that may be reckless but is also necessary for building a bankroll from nearly nothing into something pretty big. "I remember, early on, playing a hand at the Venetian where I lost two grand," he says. "It was half of my bankroll. But if I played to my roll, I would have been betting $1 units and it would have taken me seven generations to hit $100,000." So, the thinking went, you could play within your limits or "throw money to the wind. I was never afraid of losing my money. I knew I could always get a job in a restaurant and make $4,000."
You must be logged in to post a comment.
Log In If You're Already Registered At Cigar Aficionado Online