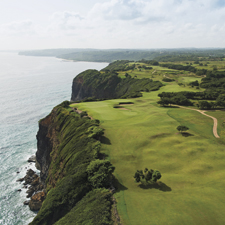 The 12th and 14th holes of Royal Isabela hover above the Atlantic Ocean on the northwest corner of Puerto Rico, and meet at a dramatic double green.
Puerto Rico's Rising
With Royal Isabela and the revamped Dorado Beach open for play, the island has joined the Caribbean's top golf destinations
(continued from page 3)
Bob Jr. had come to Puerto Rico a few years earlier when he was recruited to reimagine a golf course 45 minutes east of San Juan that had been at the center of a failed development. This would become the St. Regis Bahia Beach Resort and Golf Club that opened in 2010. It was the first new resort in Puerto Rico in more than a decade, and a luxury one at that. It signaled a rebirth of hope in the country, which had taken a pretty hard hit from the global economic turndown.
The old course at Bahia Beach was a decent layout with a splendid three-hole finish right along the beach. For years it was kept on life-support, in lousy condition but in a prime location. It was a diamond in the Bermuda rough.
"Bahia Beach was pretty much a blowup," said Jones Jr. "But it was a great piece of property to work with. We had to do some rerouting to make the real estate plan work there, but the course had some really good bones, and we were able to achieve something, I think. Of course the finish along the beach is pretty special. It isn't often these days you get to work with as much beachfront property."
Bahia Beach sits cheek-by-jowl next to Coco Beach, a resort and residential complex with 36 holes branded under the Trump International label and designed by PGA Tour player Tom Kite. Coco Beach is home to a PGA Tour event, the Puerto Rican Open. Sweeping farther east and down to the south, there are two courses at the Rio Mar resort, a lovely course at the El Conquistador and two courses at the Palmas Del Mar resort. All of the courses are within 45 minutes of each other.
Seth Bull is an American club pro who opened the Palmas del Mar resort's Gary Player course in the early 1980s and was there for the opening of a second course by Rees Jones in the late '90s. Palmas del Mar was particularly hard hit by the economic collapse and went bankrupt.
"We had a hay field for five months," says Bull, who had retired more than 10 years earlier but was recruited to get the golf courses operating again when the membership rescued them under the umbrella of the Palmas Athletic Club. "But we are pretty close now to what we had been condition-wise and we'll get there pretty quick now. We have a club, but visitors can play. It's $125 in the winter and $75 in the off-season which are pretty darn good rates."
Bull stayed in Puerto Rico after he retired, having fallen in love with the country not long after he moved from South Carolina. "It's a very family-oriented country, and there is a golf culture here. It's not big, but it's big enough. We have a lot of families who play here. It's something I've always liked about Puerto Rico. They're passionate about things and close-knit, and those who play golf are passionate about it."
Sidney Wolf is another American who has called Puerto Rico home for most of his life, and is president of the Puerto Rico Golf Association (4,000 members) and general chairman of the Puerto Rican Open. He's seen Puerto Rico's golf fortunes rise and fall, but is hopeful that the country's newest destinations fulfill what he feels is Puerto Rico's rightful destiny.
"For a long time Dorado was the only place in Puerto Rico that people knew about, though we had much more to offer," says Wolf. "Now that we have Royal Isabela, the Dorado Ritz, the Bahia Beach, we really do have world-class golf to offer. When you come here we treat you right, we feed you well, we give you a good time. And it's time that everybody knew that. Give us a chance and I'm sure you will not be disappointed."
Jeff Williams is a contributing editor of Cigar Aficionado.
You must be logged in to post a comment.
Log In If You're Already Registered At Cigar Aficionado Online